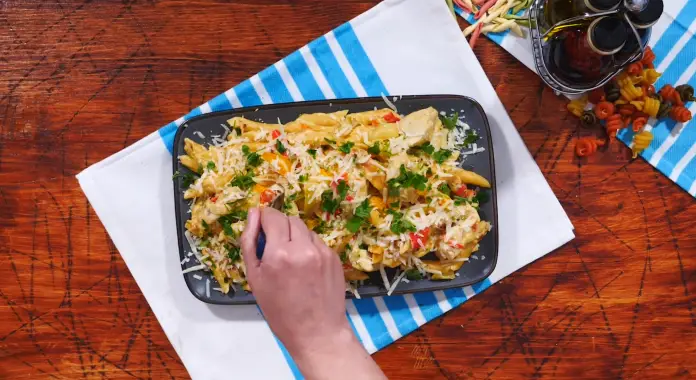 Easy to cook Chicken Fajita Pasta
Ingredients :
3 tablespoons oil
3 chicken breasts, sliced
1 red bell pepper, sliced
1 green bell pepper, sliced
1 yellow bell pepper, sliced
1 onion, sliced
1 teaspoon salt
1 teaspoon pepper
1 tablespoon chili powder
1 tablespoon cumin
1 tablespoon garlic powder
5 cups milk
4 cups penne pasta
1 cup pepper jack cheese, shredded
This is the video recipe for Chicken Fajita Pasta :
Step 1: Cut the chicken breast into strips.
Step 2: Cut the peppers .
Step 3: Slice the onion.
Step 4: In a frying pan with some oil, fry the chicken breast ( cook until no pink is visible).
Step 5: Pour some oil in a pot and add the red pepper, the yellow pepper and the green pepper.
Step 6: Add the onion and let the vegetables soften a little.
Step 7: Add the chicken and stir.
Step 8: Season with salt, pepper, turmeric, curry and granulated garlic and mix.
Step 9: Pour the milk and mix all the ingredients.
Step 10: Add the penne and cook for about 10-15 minutes, stirring occasionally.
Step 11: When the penne pasta is boiled, add the cheese, stir and cook it for 2 minutes.
Step 12: Add chopped green parsley and Parmesan cheese.
Step 13: Enjoy your chicken fajita pasta !