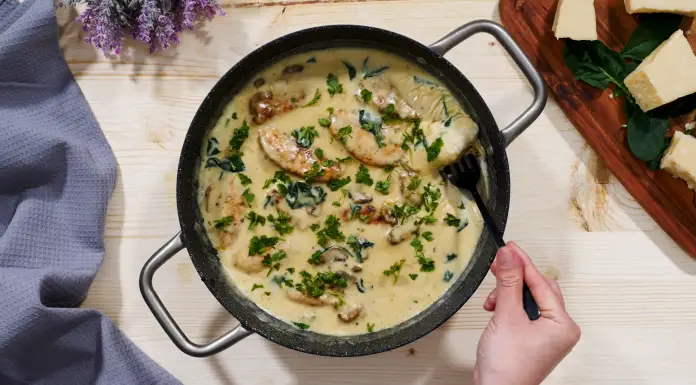 Easy to make chicken breast with mushrooms, parmesan and garlic
Ingredients:
1 tbsp + 1 tsp olive oil
1 ½ lb boneless, skinless chicken breasts
Salt
Pepper
1/2 teaspoon paprika
1/2 teaspoon garlic powder
14 oz brown mushrooms
½ cup butter
2 cloves of garlic
3 tbsp flour
1 cups + ¼ cup chicken broth
¾ cup heavy cream
½ cup parmesan
3.5 oz spinach
Green parsley
Step 1: Put the sliced breast in a bowl.
Step 2: Season with salt, pepper, paprika, garlic powder and mix so the spices cover the chicken evenly.
Step 3: Put the olive oil in a non-stick pan.
Step 4: In the hot oil, add the chicken breast slices and fry for a short time, on both sides.
Step 5: Take out the chicken breast on a plate.
Step 6: In the same pan, put the sliced ​​mushrooms and sauté for 5-7 minutes.
Step 7: Remove the mushrooms and keep the pan.
Step 8: Put the butter and let it melt.
Step 9: Add the crushed garlic and cook for 2 minutes.
Step 10: Add the flour and spread it with a fork.
Step 11: Put the chicken broth and mix to dissolve the flour lumps and get a fine sauce.
Step 12: Add the sour cream and Parmesan cheese and continue to stir until boiling.
Step 13: Season with salt and pepper.
Step 14: Add the spinach and let it boil in the sauce for 5 minutes.
Step 15: Put the sautéed mushrooms and mix.
Step 16: Add the slices of meat and turn them on both sides.
Step 17: Let it simmer for another 3-5 minutes.
Step 18: Turn off the heat and sprinkle with chopped green parsley.
Step 19: Enjoy the delicious recipe chicken breast with mushrooms, parmesan and garlic.