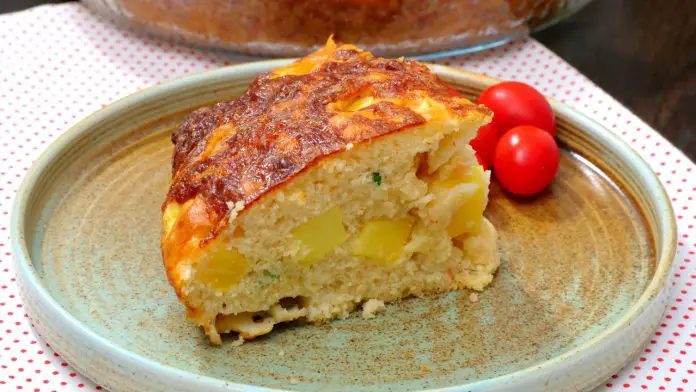 Pie with vegetables and feta cheese
Ingredients:
2 potatoes
2 green onions
2 tomatoes
1 Pepper
4 eggs
Salt
5 oz Milk
1/2 cups Oil
4 oz feta cheese
3 cups flour
1 tbsp baking powder
4 oz cheese
Step 1: Cut the potatoes into thin cubes;
Step 2: Chop the green onion;
Step 3: Peel the tomatoes and cut them into cubes;
Step 4: Cut the peppers into pieces;
Step 5: Cut the feta cheese into cubes;
Step 6: Grate the cheese;
Step 7: In a deep bowl, mix eggs with salt;
Step 8: Add the milk and homogenize;
Step 9: Pour the oil and incorporate it into the mixture;
Step 10: Add the vegetables and feta cheese. Stir to integrate the vegetables into the mixture.
Step 11: Put the flour and baking powder and mix well.
Step 12: Pour the mixture into a buttered baking pan.
Step 13: Level and put the grated cheese on top.
Step 14: Put the tray in the preheated oven at 360 F for 35 minutes.
Step 15: Enjoy this delicious feta cheese and vegetables pie.
This pie is loaded with flavorful add-ins like cheese and fresh vegetables. It's easily adaptable to use up what you have in your fridge. It makes for a lovely lunch or dinner, and is the perfect addition to any picnic, potluck or buffet table. It can be served with a fresh green salad but you can really pair it with almost anything!
You can adapt the pie recipe to incorporate whatever you have left in the fridge, helping you reduce food wastage. So it's a very versatile recipe!