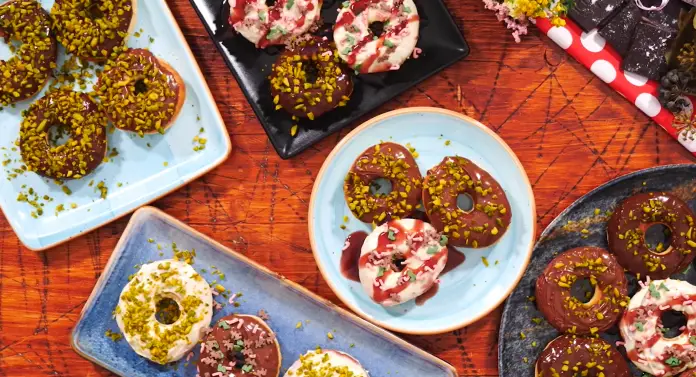 Easy to make no fry donuts recipe
Ingredients :
For donuts:
1 cup milk
3 cups flour
½ cup sugar
1 egg
3 tbsp + 2 tsp butter
1 vanilla essence
1/2 envelope active dry yeast
1 envelope vanilla sugar
a pinch of salt
For the glaze:
4 oz white chocolate
4 oz dark chocolate
4 oz milk chocolate
For decoration:
pistachios;
sprinkles
syrup (toping).
Step 1: Stir warm milk, yeast and sugar.
Step 2: Mix everything very well and let the yeast activate for 10 minutes.
Step 3: In a deeper bowl put flour, fermented yeast, egg, sugar, salt and vanilla essence.
Step 4: Knead until you get a thick dough.
Step 5: Add the butter and knead a little more.
Step 6: Add more flour during kneading until you get the desired consistency.
Step 7: Transfer the dough to a bowl greased with oil, cover it and let it rise until it doubles in volume (about 40 minutes).
Step 8: Take the dough out of the bowl and place it on the work surface sprinkled with flour.
Step 9: Spread a sheet with a twister.
Step 10: Using a glass, cut out the donuts. The middle is cut with a bottle stopper.
Step 11: Continue the procedure from step 10, reusing the excess dough from the cutout.
Step 12: Place the donuts in a baking tray lined with baking paper.
Step 13: Let the donuts in the pan for 10-15 minutes.
Step 14: Place the tray in the oven in the preheated oven at 356°F for about 15 minutes.
Step 15: Remove the tray from the oven and allow the donuts to cool.
Step 16: Melt the chocolate on a steam bath.
Step 17: Put each donut in the desired chocolate, drain the excess chocolate and place them on a plate.
Step 18: Decorate according to your preferences.
Step 19: Enjoy the no fry glazed donuts !