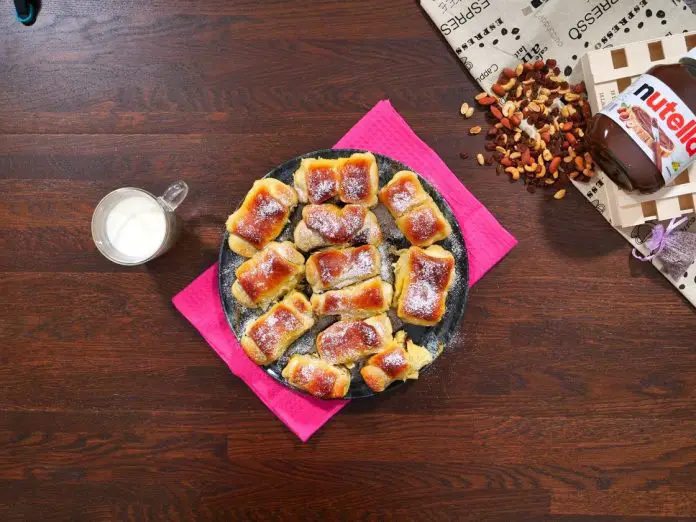 Delicious homemade Chocolate Croissants
Ingredients :
1 cup milk
½ oz dry yeast
⅓ cup sugar
1 confectioners' vanilla sugar
1 egg
½ cup melted butter
3 cups flour
1 ½ chocolate cream
1 egg for coating
¼ cup butter for coating
1 oz powdered sugar
This is the video recipe for Nutella Croissants
Step 1: Add the warm milk in a bowl together with the yeast, sugar and vanilla sugar and mix it with a whisk to combine the ingredients.
Step 2: Leave the bowl covered for 10 minutes.
Step 3: Put the egg and melted butter and stir to combine.
Step 4: Pour the flour and knead the dough.
Step 5: Depending on the consistency of the dough, add more flour until you get a fluffy, non-sticky dough.
Step 6: Let the dough rise in a warm place for an hour, or until doubled in size.
Step 7: Place the dough on the worktop and divide it into 12 parts.
Step 8: Take a piece of dough, shape it into a ball, then roll it out with a rolling pin so that you get a suitable sheet.
Step 9: Place a tablespoon of chocolate cream on the dough sheet at the bottom end, turn the side edges of the sheet, then roll.
Step 10: Continue until you finish the dough.
Step 11: Put baking paper in a baking tray and place the croissants
Step 12: Grease the croissants with sttired egg and leave them in the pan for about 10-15 minutes.
Step 13: Preheated oven at 375°F degrees and place the tray in the oven in the for about 20 minutes.
Step 14: When the croissants have browned, remove the tray, grease the croissants with butter and place them on a plate.
Step 15: Powder them with powdered sugar.
Step 16: Enjoy your croissants with chocolate chocolate cream. They are extremely fluffy, tasty and perfect for a delicious snack!