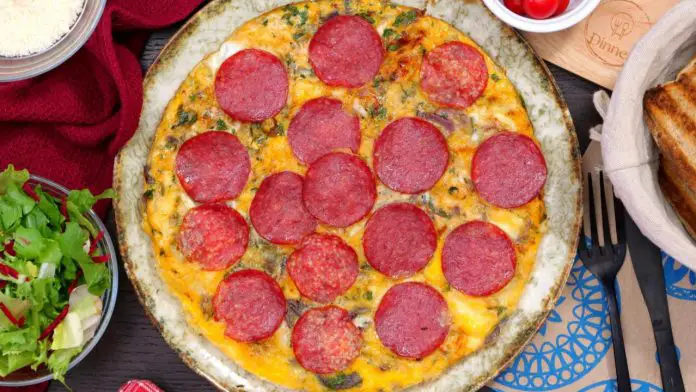 Perfect family omelette recipe
Ingredients :
1 tbsp olive oil
1 medium red onion
salt
black pepper
6 eggs
Fresh Parsley
1/2 cups mozzarella
1 tbsp parmesan
1 tsp sweet paprika
salami
Step 1: Heat the oil in a pan and add the sliced onion. Season with salt and pepper and cook on medium heat until it gets soft.
Step 2: Add the unbeaten eggs and keep on low heat.
Step 3: Add the parsley, mozzarella, parmesan and season with sweet paprika.
Step 4: Gently mix all the ingredients until they are incorporated, then add the salami.
Step 5: Cover the pan with a lid and leave the omelet on low heat for about 10 minutes.
Step 6: Serve warm, on slices of toasted bread. Enjoy this delicious omelette recipe!
Eggs are one of the best breakfasts. They are one of the most nutritious things you can eat. And we all know that there is no rigid formula for the perfect omelette. In fact, you can use whatever you find in your fridge in order to make one – veggies, deli meats or cheese. One of our favorites is salami and red onion omelette! We think you should try it!