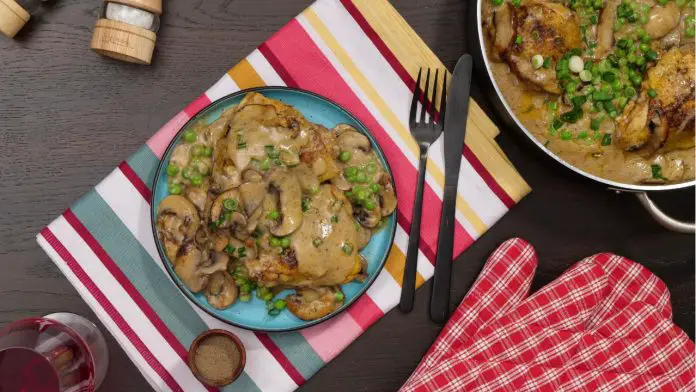 Chicken with mushroom and cream sauce
Ingredients:
4 pieces of chicken leg (top);
Salt;
Pepper;
Sweet pepper paste;
Thyme;
10 oz mushrooms;
1/3 cup butter;
3 cloves of garlic;
2 tbsp flour;
1/2 cup of dry white wine;
1/2 cup cooking cream;
3 ounces water;
1/2 cup frozen peas;
Green onions.
Step 1: Season the chicken pieces with salt, pepper and paprika on both sides.
Step 2: Leave to marinate for about 20 minutes.
Step 3: Cut the mushrooms into slices.
Step 4: Add about half of the total butter in a pan and let it melt.
Step 5: Fry the thighs in butter on both sides for about 7-10 minutes.
Step 6: Remove the thighs on a plate and set aside.
Step 7: Put the mushrooms in the pan and let them fry for 2-3 minutes.
Step 8: Add the remaining butter, crushed garlic and mix.
Step 9: Add flour to the mushrooms and mix well.
Step 10: Pour the wine and let it boil for 3-5 minutes so the alcohol can evaporate.
Step 11: Add sour cream and season with salt, pepper, thyme to taste.
Step 12: Stir and let the sauce boil
Step 13: If the sauce is too thick, pour max 1/2 cup of water.
Step 14: Boil the sauce for 5 minutes.
Step 15: Place the fried thighs in the sauce, cover with a lid and cook for 15 minutes.
Step 16: Lift the lid, pour the peas, stir and cook for another 5 minutes.
Step 17: Chop the green onion.
Step 18: Turn off the heat and add the onion.
Step 19: Enjoy this chicken with sour cream sauce recipe.