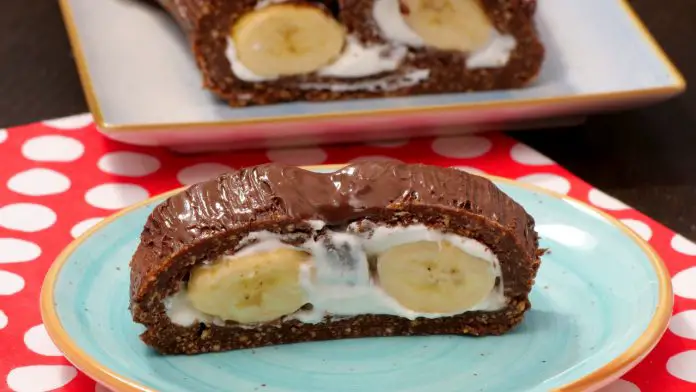 Roll with chocolate and bananas
Ingredients:
10 oz biscuits
1/3 cups melted butter
2 tbsp milk
1/2 cups Nutella
5 oz whipped cream
2 tbsp powdered sugar
2 Bananas
1/3 cups Nutella (for decoration).
Step 1: Grind the biscuits.
Step 2: Melt the butter in a non-stick pan.
Step 3: Put the crushed biscuits in a deep bowl.
Step 4: Pour melted butter, milk and chocolate cream (at room temperature) over the biscuits and mix to homogenize very well.
Step 5: Beat the cream with the powdered sugar for about 5-7 minutes (until it becomes firm).
Step 6: On a food foil spread (at first with the help of your palms, later with the rolling pin) the cookie crust, uniformly in a rectangular shape.
Step 7: Spread the whipped cream evenly over the entire surface.
Step 8: Clean the bananas and place them on each of the two edges of the base, over the whipped cream.
Step 9: With the help of the food foil, roll so that you cover the bananas and reach the middle with both sides at the same time.
Step 10: Leave the cake to cool for 2 hours.
Step 11: Using a brush, spread the chocolate cream over the cake.
Step 12: Enjoy this chocolate banana roll recipe
A chocolate banana roll is a delightful dessert that combines the rich flavors of chocolate with the natural sweetness of bananas. It typically consists of a light and fluffy sponge cake that is rolled up with a luscious chocolate and banana filling.
This dessert It's often served chilled and can be garnished with powdered sugar, cocoa powder, chocolate shavings, or banana slices for an extra touch of elegance.
The combination of chocolate and banana is a classic pairing, and a chocolate banana roll offers a delightful way to enjoy these flavors in a visually appealing dessert. It's perfect for special occasions or as a sweet treat to impress your guests.