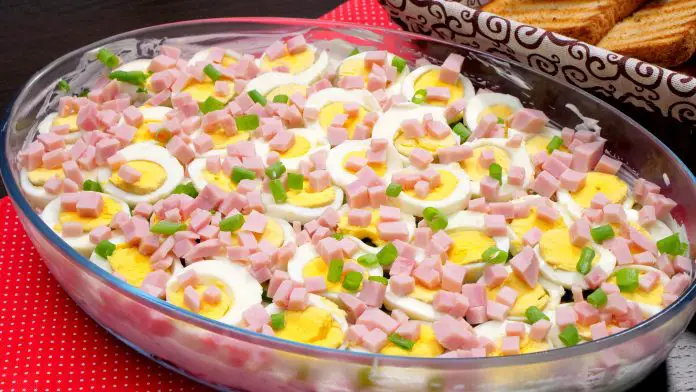 Salad with cucumber and ham
Ingredients:
0.7 lbs (300g) cucumbers;
0.7 lbs (300g) sour cream;
Salt;
Pepper;
1 bunch green parsley;
0.7 lbs (300g) Greek yogurt;
1 cup (200g) red pepper;
1/2 cups (100 g) cheese;
1 cup (250g )pressed ham;
1 bunch green onion;
10 eggs.
Step 1: Cut the cucumbers lengthwise (you can cut the cucumbers with the skin on).
Step 2: Dice the peppers.
Step 3: Chop the onion tails.
Step 4: Cut the ham into cubes.
Step 5: Finely chop the green parsley.
Step 6: Grate the cheese through the large grater.
Step 7: Hard-boil eggs, peel them and cut them into slices.
Step 8: In a bowl mix: cream, salt, pepper, chopped parsley, yogurt, cheese and red pepper.
Step 9: Put the cucumbers in a bowl and press with a spatula.
Step 10: Add half of the composition prepared in step 8 and spread it over the cucumbers.
Step 11: Sprinkle the diced ham 3/4 cups (200g) on ​​top.
Step 12: Spread the other half of the composition on top of the ham layer.
Step 13: Sprinkle the onion tails.
Step 14: Place the egg rounds on the entire surface.
Step 15: Put the rest of the diced ham and some green onion tails on top of the eggs.
Step 16: Place the tray in the refrigerator for an hour.
Step 17: Enjoy this Eggs, cucumber & ham Salad recipe
The "Eggs, Cucumber & Ham Salad" is a refreshing and satisfying dish that combines the richness of eggs and ham with the crispness of fresh cucumber. This salad is a great choice for a light meal, brunch, or even a side dish. It's a great option for warmer days when you're looking for a meal that's both satisfying and cooling. Enjoy it with some crusty bread or alongside other dishes for a balanced and tasty meal.
This salad brings together the satisfying textures of eggs, the crispness of cucumber, and the savory goodness of ham, creating a well-rounded dish that's as flavorful as it is nutritious.