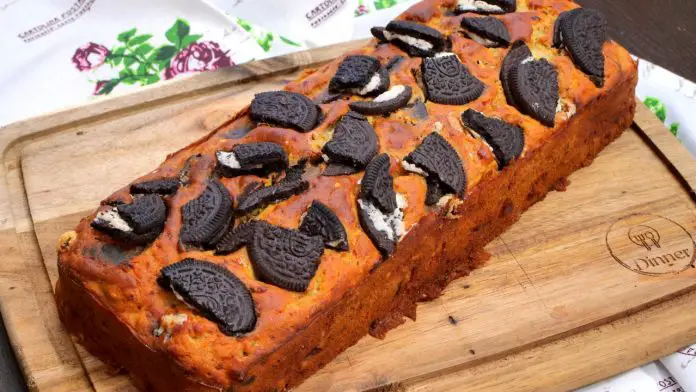 Ingredients:
1 cup (220 g) flour
1 tbsp (10 g) baking powder
Salt
2 eggs
1 lbs (450 g) bananas (bananas without the peel)
1 tbsp vanilla essence
1 cup (200 g) Oreo biscuits
Preparation:
1. In a bowl mix the flour, baking powder and salt .
2. In another bowl, mash the bananas until they become creamy, then add eggs, vanilla essence and mix well.
3. Put the liquid mixture (the one with bananas) over the flour mixture and mix everything with a whisk.
4. Add the crushed Oreo biscuits, then mix. Keep 3-4 biscuits to put on top of the cake.
5. Put the mixture in a baking tray covered with baking sheet, level it, then place the 3-4 crushed Oreo biscuits on top. My tray had the dimensions of 12 inch x 4 inch (30×10 cm).
6. Put the tray in the preheated oven preheated at 360 F ( 180 degrees C), for 35-40 minutes.
7. Let it cool completely before cutting the cake.
8. Enjoy this Oreo Banana cake recipe.