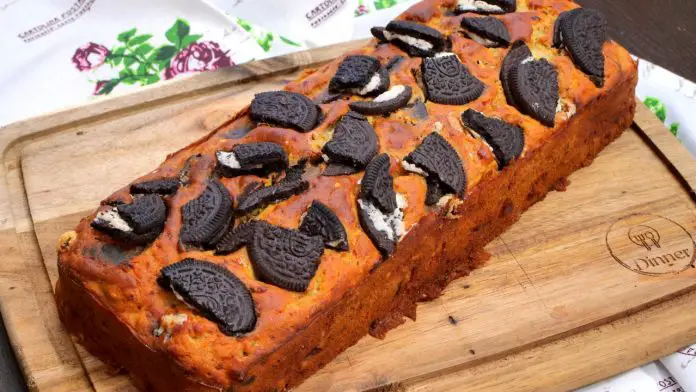 Oreo banana bread recipe
Ingredients:
1 cup (220 g) flour
1 tbsp (10 g) baking powder
Salt
2 eggs
1 lbs (450 g) bananas (bananas without the peel)
1 tbsp vanilla essence
1 cup (200 g) Oreo biscuits
Preparation:
1. In a bowl mix the flour, baking powder and salt .
2. In another bowl, mash the bananas until they become creamy, then add eggs, vanilla essence and mix well.
3. Put the liquid mixture (the one with bananas) over the flour mixture and mix everything with a whisk.
4. Add the crushed Oreo biscuits, then mix. Keep 3-4 biscuits to put on top of the cake.
5. Put the mixture in a baking tray covered with baking sheet, level it, then place the 3-4 crushed Oreo biscuits on top. My tray had the dimensions of 12 inch x 4 inch (30×10 cm).
6. Put the tray in the preheated oven preheated at 360 F ( 180 degrees C), for 35-40 minutes.
7. Let it cool completely before cutting the cake.
8. Enjoy this Oreo Banana cake recipe.
Tender, rich banana bread with chopped Oreo cookies in each bite. It's decadently moist with lots of ripe banana flavor. It's the perfect grab and go breakfast, afternoon snack, or late night munchie. Serve it warm or at room temperature. The combination of ripe bananas and Oreo cookies makes this bread a crowd-pleaser among kids and adults alike.
Oreo banana bread combines the nostalgic comfort of banana bread with the irresistible allure of Oreo cookies. The result is a moist, flavorful, and satisfying dessert that's perfect for any occasion.