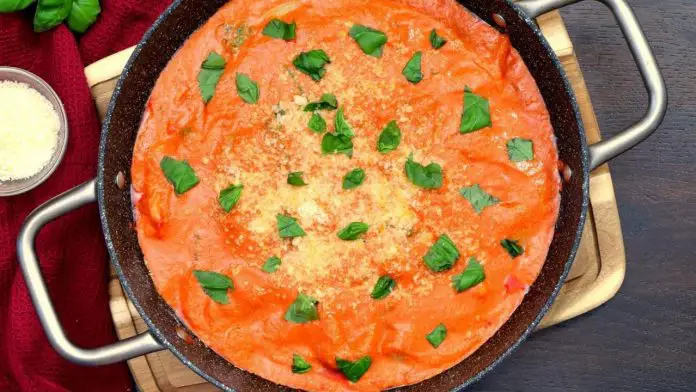 Delicious gnocchi recipe with cheesy cream sauce and spinach
Ingredients:
– 1 lbs (500 g) gnocchi
-1 tbsp (15 ml) olive oil
-2 tbsp (30 g) butter
-4 cloves garlic
-1 can (750 ml) crushed tomatoes
-1/2 tsp (3 g) chilli flakes
-salt
-pepper
-3/4 cup (150 g ) heavy cream
-7-8 basil leaves
-1 cup (200 g) fresh mozzarella
-1/2 (100 g) cup grated parmesan
-2 handfuls baby spinach
Preparation:
Step 1: Prepare the gnocchi according to the instructions on the package.
Step 2: Put oil, butter and garlic in a large saucepan and leave for 1-2 minutes to mix the flavours
Step 3: Add tomato juice, chilli flakes and season with salt and pepper. Let everything cook for 2-3 minutes.
Step 4: Add the heavy cream and mix.
Step 5: Tear the basil leaves and add them to the sauce.
Step 6: Add mozzarella in small pieces, then Parmesan. Mix until well incorporated and let the sauce cook for another 3-4 minutes.
Step 7: Add the gnocchi, then the spinach. Mix and leave on low heat until the spinach softens.
Step 8: Sprinkle Parmesan cheese and fresh basil leaves for extra taste.
Step 9: Enjoy this creamy gnocchi recipe
Tender gnocchi blanketed in a creamy tomato sauce, speckled with fresh spinach and bites of melty cheese – DELICIOUS !!!
Making this couldn't be easier: You make the sauce, add the cheese and then add the gnocchi and spinach. The creamy tomato sauce is smooth, flavorful and delicious. Very simple recipe with a versatile pasta sauce, that can be used not only on gnocchi, but also your favorite pasta.
This gnocchi recipe it's perfect for any occasion from a quick and easy weeknight meal to a memorable main course for company!