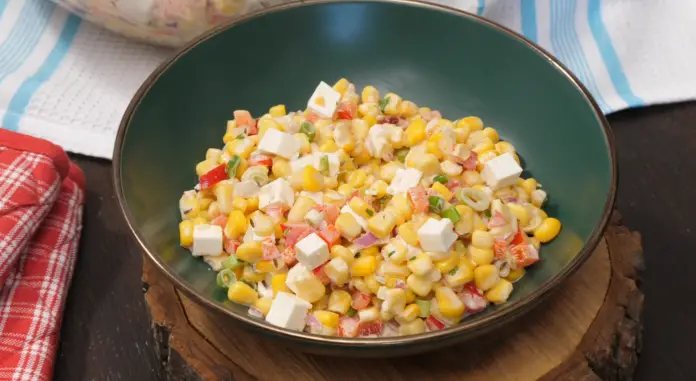 Ingredients:
-3,5 cups corn
-2 tbsp olive oil
-1 small red bell pepper
-1/2 small red onion
-1/2 cup fresh cilantro
-4 scallions
-1 cup feta cheese
Dressing:
-3 tbsp Greek yogurt
-3 tbsp mayonnaise
-juice of 1 lime
-1 tsp cumin
-1/2 tsp black pepper
-1 tsp salt
-1 tsp paprika
Step 1: Prepare all the ingredients. Drain the corn from the can. Cut the vegetables and greens into small pieces. Feta cheese is cut into cubes.
Step 2: In a large bowl, mix the corn, chopped vegetables, greens and olive oil.
Step 3: In another bowl, prepare the dressing, mixing all the ingredients well.
Step 4: Add the dressing over the vegetable mix and incorporate all the ingredients very well.
Step 5: Sprinkle the feta cheese over the salad.
Step 6: Enjoy this corn salad with feta cheese recipe!