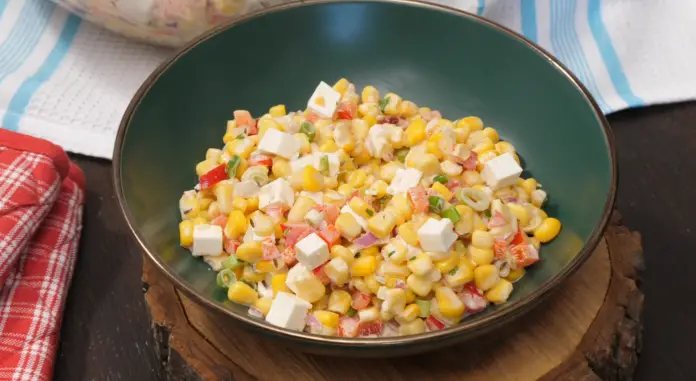 Corn salad with feta cheese recipe
Ingredients:
-3,5 cups corn
-2 tbsp olive oil
-1 small red bell pepper
-1/2 small red onion
-1/2 cup fresh cilantro
-4 scallions
-1 cup feta cheese
Dressing:
-3 tbsp Greek yogurt
-3 tbsp mayonnaise
-juice of 1 lime
-1 tsp cumin
-1/2 tsp black pepper
-1 tsp salt
-1 tsp paprika
Step 1: Prepare all the ingredients. Drain the corn from the can. Cut the vegetables and greens into small pieces. Feta cheese is cut into cubes.
Step 2: In a large bowl, mix the corn, chopped vegetables, greens and olive oil.
Step 3: In another bowl, prepare the dressing, mixing all the ingredients well.
Step 4: Add the dressing over the vegetable mix and incorporate all the ingredients very well.
Step 5: Sprinkle the feta cheese over the salad.
Step 6: Enjoy this corn salad with feta cheese recipe!
You'll love this corn salad recipe: it is really easy to make, it's full of fresh and flavorful ingredients and you can make it ahead. This salad tastes best if it is chilled in the refrigerator for at least 2 hours before serving. This time allows the flavors of the salad to blend together.
The best thing about corn salad is that it's endlessly versatile. Switch up the ingredients based on what you have on hand, or your fave flavor combos.
Serve this corn salad as a side dish with slow cooker ribs, grilled chicken, grilled pork chops or turkey burgers. Or, enjoy it as an appetizer, with tortilla chips for scooping up the salad.