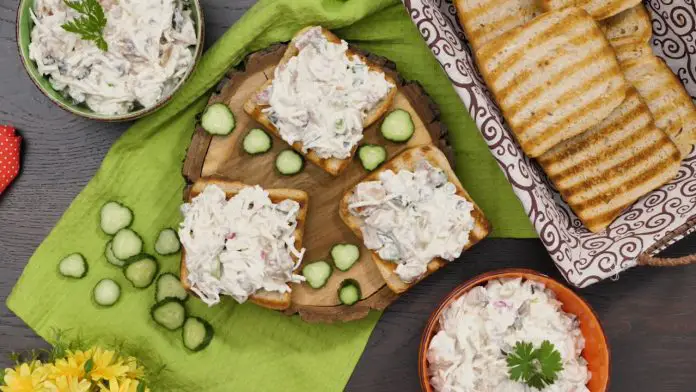 Best chicken salad recipe
Ingredients
⁃ 12 oz (350 g) baked or roasted chicken breast;
⁃ 6 oz (180 g) celery root;
⁃ 1 red or white onion;
⁃ salt
– pepper
⁃ half a lemon;
⁃ 2/3 cup (150 g) mayonnaise;
⁃ 2/3 cup creamy (150g) Greek yogurt;
⁃ 2 pickled or raw cucumbers.
Step 1: How to prepare the sauce : Mayonnaise is mixed with creamy yogurt until it gets smooth and we have a fine cream.
Step 2: Peel the celery root and grate it, then sprinkle it with lemon juice.
Step 3: Cut the chicken breast into strips or cubes.
Step 4: Cut the cucumber into strips or cubes.
Step 5: Peel the onion and chop it finely.
Step 6: In a bowl put the chicken breast, grated celery and sprinkled with lemon, then chopped onion.
Step 7: Add salt and pepper to taste, then add the mayonnaise sauce with yogurt.
Step 8: Gently mix the salad until all the ingredients are well blended.
Step 9: Cover the chicken salad with cling film and let it cool for about 30 minutes, so all the flavors will mix well.
Step 10: Enjoy this recipe of chicken breast salad with celery and mayonnaise.