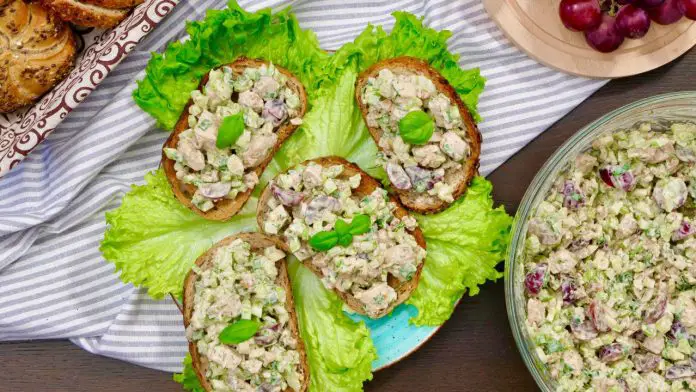 Ingredients :
Chicken salad
4-5 cups of dices cooked chicken breast
2 cups seedless grapes, halved
1 cup chopped walnuts
3 stalks celery finely diced
4 scallions thinly sliced
3 tbsp fresh dill, chopped
3 tbsp fresh parsley, chopped
For the dressing:
1 cup mayonnaise
Juice of 1 lemon
1 tbsp lemon zest
2 tbsp Dijon mustard
1 tsp salt
½ tsp pepper
1. Mix the fried chicken, grapes, nuts, celery, green onions, dill and parsley in a large bowl
2. In another bowl, prepare the dressing, mixing the mayonnaise, lemon juice and peel, mustard, salt and pepper.
3. Add the dressing over the chicken mixture and incorporate all the ingredients very well.
4. Serve the salad on toast, croissant or crackers.
5. Enjoy this chicken mayo salad!