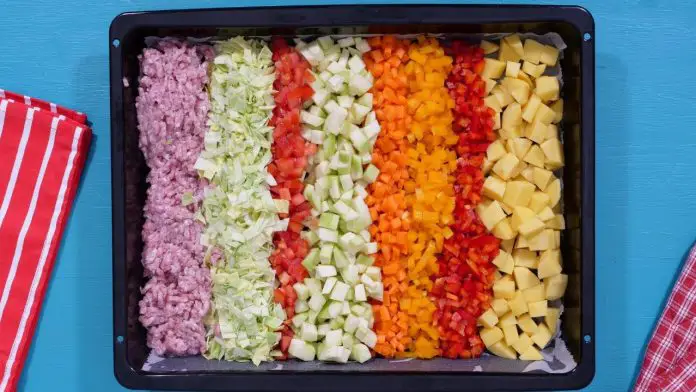 Baked vegetables in Moroccan style
Ingredients:
3 potatoes;
1 yellow bell pepper;
1 red bell pepper;
1 carrot;
1 zucchini;
1/2 cup white cabbage;
2 tomatoes;
1 cup minced meat;
3 tbsp tomato paste;
Salt;
Pepper;
1 tsp paprika;
1 cup olive oil;
Green parsley;
2 cups mozzarella;
Green basil.
Step 1: Cut all the vegetables into cubes.
Step 2: In an oven tray covered with baking paper, place the vegetables in rows, starting with the potatoes and ending with the minced meat. (You can place them in the order of your preferences).
Step 3: Place the tomato paste on top of the vegetables.
Step 4: Season with salt, pepper, paprika.
Step 5: Add oil .
Step 6: Mix everything well in the pan and sprinkle chopped green parsley.
Step 7: Soak a sheet of baking paper in water and place it in the pan over the vegetables.
Step 8: Bake it in the oven for 40-50 mins at 360°F
Step 9: Remove the tray, sprinkle with mozzarella and put back in the oven for 5-10 minutes.
Step 10: Season with green basil leaves.
Step 11: Enjoy this baked vegetables Moroccan style recipe!