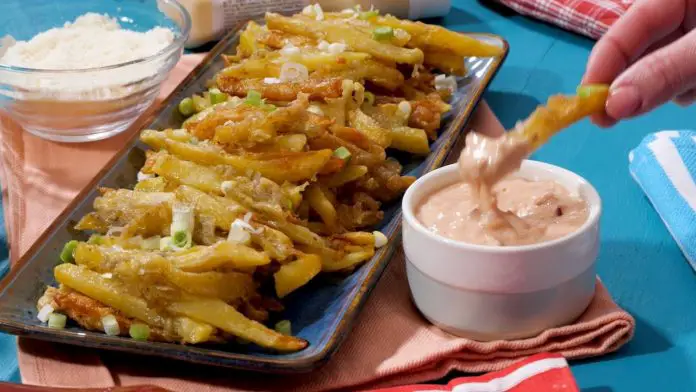 French fries with eggs
Ingredients :
4 potatoes;
2 eggs;
1/2 tsp salt;
1/2 tsp pepper;
1/2 tsp garlic powder;
1/2 tsp oregano;
1/3 cup white flour;
Oil;
For the sauce:
1/2 red onion;
3 tbsp mayonnaise;
2 tbsp ketchup;
1 tsp mustard;
Pepper ;
For extra taste:
2 green onions.
Step 1: Prepare the sauce from 1/2 finely chopped red onion, mayonnaise, ketchup and mustard.
Step 2: Mix all the ingredients in a bowl and add a little pepper to taste.
Step 3: Let the sauce cool until the potatoes are ready.
Step 4: Peel and slice the potatoes (french fries shape)
Step 5: Wash them thoroughly and dry them in a paper towel.
Step 6: Put the potatoes in a deeper bowl, add the 2 eggs and season with salt, pepper, garlic powder and oregano.
Step 7: Add the flour and mix everything well to cover each potato with egg and flour.
Step 8: Heat the oil in a deeper pan.
Step 9: Pour the potatoes into the hot oil and let them fry, turning them on all sides.
Step 10: Remove the potatoes on a plate on which we place a paper towel that will absorb the excess oil.
Step 11: Transfer the potatoes to another plate and sprinkle with chopped green onions.
Step 12: We wish you good appetite and enjoy this french fries with eggs recipe!