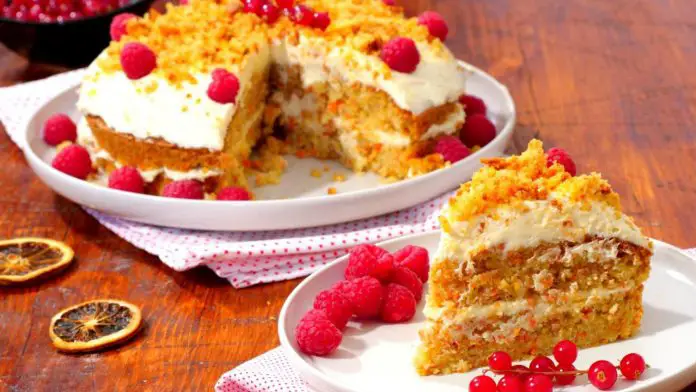 CARROT CAKE
Ingredients:
2 cups all purpose flour
2 cups finely grated carrot
1 cup sugar
4 eggs
1½ tsp baking powder
1 tsp baking soda
½ tsp salt
1 cup oil
1 tbsp orange juice
3 tbsp orange zest
For the icing:
2 cups mascarpone cheese
3 tbsp full fat greek yogurt
4-5 tbsp vanilla powdered sugar
1. In a bowl, mix flour, baking powder, baking soda, and salt using a whisk.
2. In another large bowl, mix the eggs with sugar until you get a frothy mixture.
3. Add the orange peel and orange juice and mix well.
4. Add the oil slowly and mix continuously.
5. Add the flour mixture and incorporate slowly. Do not mix excessively, just so that there are no lumps of flour.
6. Add the carrots and mix gently.
7. Pour the composition into the pan and put it in the preheated oven at 340°F for 90 minutes. Depending on the oven, it can be 10 minutes more or less, so keep an eye on the cake. It is ready when it passes the toothpick test.
8. When the cake is ready, take it out of the pan and let it cool well.
9. Meanwhile, prepare the cream. Using a blender, mix the mascarpone cream, yogurt and vanilla powdered sugar.
10. When the cake has cooled completely, remove the bulging part and keep it for decoration. Using a long-bladed knife, cut the cake in half horizontally.
11. Fill and decorate the cake with mascarpone cream as in the video.
12. Enjoy this delicious carrot cake recipe!