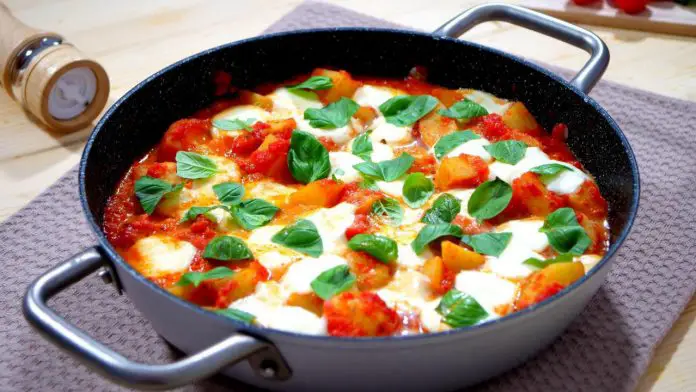 Potatoes with tomato sauce and mozzarella
Ingredients:
2 lbs potatoes;
1 tbsp olive oil;
2 cloves of garlic;
1 cup tomato sauce;
Salt;
Pepper;
1 tsp oregano;
Green parsley;
Green basil;
1 cup mini mozzarella.

Step 1: Boil the potatoes in salted water.
Step 2: Peel the potatoes and cut them into cubes.
Step 3: Pour olive oil in a pan and add the crushed garlic.
Step 4: Cook for 2-3 minutes.
Step 5: Add the tomato sauce and season with salt, pepper and oregano.
Step 6: Let it boil for 5-10 minutes, stirring occasionally.
Step 7: Add the potatoes lightly so they don't get crushed.
Step 8: Mix everything and cook for another 5-10 minutes.
Step 9: Place the mini mozzarella on top, cover the pan with a lid and let it cook until the mozzarella melts.
Step 10: Turn off the heat and sprinkle with chopped green parsley and basil.
Step 11: Enjoy this delicious potatoes recipe with tomato sauce and mozzarella!