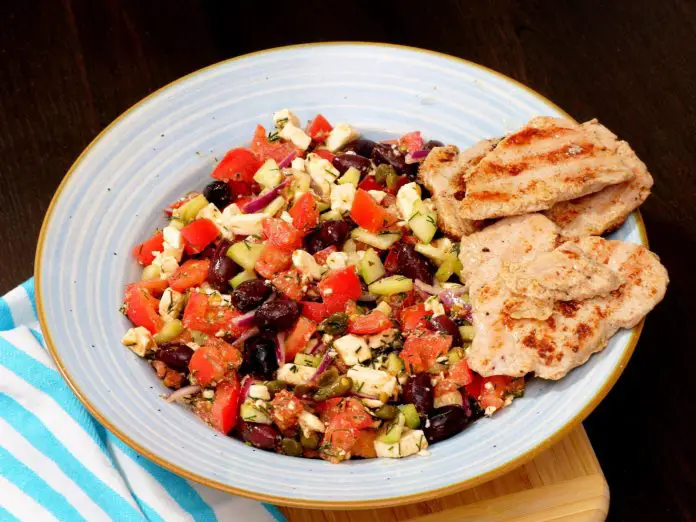 Greek salad recipe
Ingredients:
2-3 slices toasted bread
Dressing:
1/3 cup olive oil
1-2 tbs red wine vinegar
1-2 tbs capers
1/2 tsp dried oregano
salt and pepper to taste
Salad:
3 medium tomatoes
1 long cucumber
1/2 small red onion
1/3 cup Kalamata olives
1/4 cup dill
3 cups feta cheese
1. In a large bowl, mix very well all the ingredients for the dressing: olive oil, vinegar, capers, oregano, salt and pepper.
2. In the same bowl, add the tomatoes, cucumbers, onions, olives, dill and feta cheese.
3. Mix the dressing with the vegetables and cheese so that the flavors blend.
4. Place the slices of fried bread in a plate. Put the salad on top.
5. Leave everything aside for about 10 minutes, so that the bread absorbs the liquid from the salad.
6. It can be served as a main dish, but also as a side dish accompanying a grilled chicken breast.
7. Enjoy this greek salad
Greek salad
This greek salad is one of my favorite recipe to make during the summer. This one is a breeze to make and it's coated with such a delicious dressing. It just requires some simple chopping and quick mixing. Fresh tomatoes, feta, capers, onion, oregano, and dill … the taste of summer all in one bite. I love the rich colors in this salad!
I love it for lunch but it's always so welcomed at dinner too, and it's delicious paired with grilled chicken.