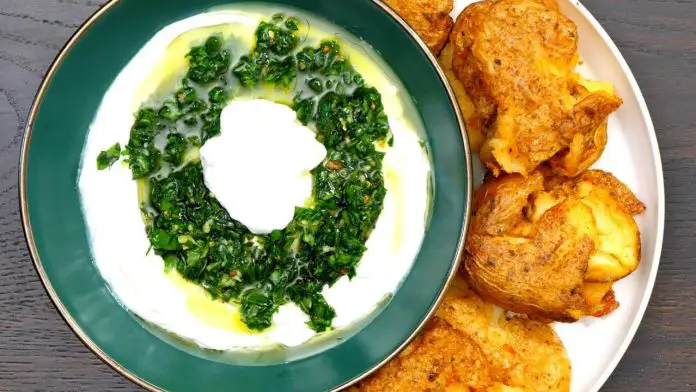 Smashed potatoes recipe
1 lbs potatoes
1 tbsp salt
3 tbsp olive oil
1 tsp sweet paprika
1 tsp oregano
1 tsp garlic powder
1/2 tsp salt
Extra olive oil (optional)
For the yogurt dip:
½ bunch fresh parsley
1 clove garlic
½ tsp salt
1 tsp chilli flakes
5 tbsp olive oil
2 cups greek yogurt
1. Wash the potatoes very well and place them in a large pot. Add water over them until they are completely covered. Add 1 tbsp of salt and let them boil until they are easily pierced with a fork.
– choose small potatoes, of approximately the same size
– the most indicated are baby potatoes
2. After the potatoes have boiled, let them cool down a little, then place them evenly on the baking tray lined with baking paper.
3. Mash the potatoes using the end of a glass or a masher. Do not press too hard, so as not to crush the potatoes. You have to flatten them, but they should remain whole.
4. In a bowl, add the olive oil, sweet paprika, oregano, garlic powder and salt. Mix everything well and spread this mix on each potato separately.
5. You can sprinkle the potatoes with olive oil. This step is optional. Olive oil makes the potatoes crispier on the outside.
6. Bake the potatoes in the oven preheated to 400 F (200 degrees C). After 15 minutes, remove them from the oven and turn them over to the other side. Brush this part with the herb mix obtained at point 4 and leave the potatoes in the oven for another 15 minutes.
7. While the potatoes are in the oven, you can prepare the yogurt sauce.
In a bowl, mix the parsley, garlic, salt, chili flakes and olive oil. This mix is placed over the yogurt or you have the option to mix everything. Depending on everyone's preferences.
8. Serve the potatoes with the yogurt sauce, as a side dish or as a main dish.
9. Enjoy this delicious smashed potatoes recipe
Smashed potatoes with yogurt dip recipe
I have to say that you can't go wrong with warm, crispy potatoes and a refreshing herby sauce. This potato side dish is super easy to make and uses simple, healthy ingredients. It's a great option to serve at your next dinner party or simply with a weeknight meal.
The smashed potatoes in this dish are crispy on the outside and tender on the inside. The yogurt dip provides a creamy and tangy contrast, complementing the potatoes' texture with its smoothness. The addition of fresh herbs and garlic adds layers of flavor to the dish.
If you haven't made smashed potatoes before, what are you waiting for?