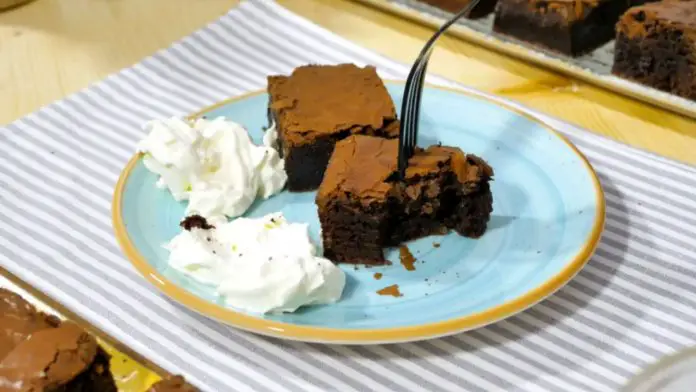 Fudgy brownies recipe
Ingredients:
– 1 cup semi dark chocolate
– 1/2 cup butter
– 1 cup white sugar
– 1/2 cup brown sugar
– 3 eggs
– 1 tsp salt
– 1 tsp vanilla essence
– 3 tbsp flour
– 1 tbsp cocoa
1. You will need a baking tray 8 x 20 inch. Grease it with butter and cover it with baking paper.
2. Put the chocolate and butter in a bowl and melt on a steam bath. Set aside and leave to cool.
3. Put the white sugar and brown sugar in a separate bowl. Over the sugar, add the eggs, one by one, mixing very well, until the composition becomes creamy.
4. Add the melted chocolate over the composition obtained in the previous step and mix.
5. Add flour and cocoa. Mix lightly.
6. Add the vanilla essence and salt.
7. Pour the composition into the prepared tray and place it in the preheated oven (340°F ) for 30 minutes. After this time the brownie will have a crispy crust and the top will have a slightly damp texture, so there is no need for the toothpick test.
8. Cut the brownie when it's cold
9. Enjoy this delicious fudgy brownie recipe!