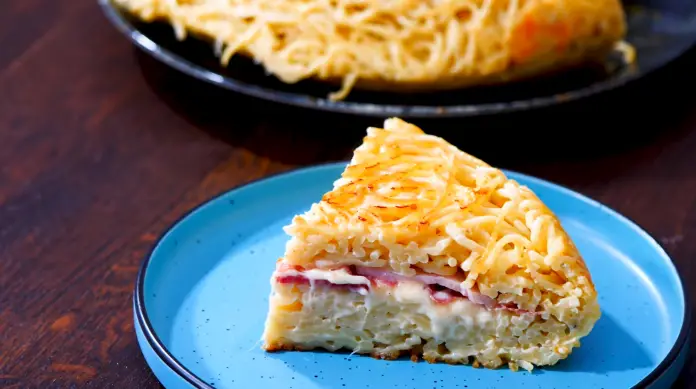 Ingredients :
1 lb spaghetti pasta
1 cup cheese
5 egs
Salt, to taste
Pepper, to taste
1 tbsp. vegetable oil
5 slices smoked ham
6 slices salami
3 slices bacon
3 cups cheese
This is the video recipe :
Step 1: Boil the pasta in salted water.
Step 2: Grate the cheese through a small grater.
Step 3: Mix the eggs in a bowl with spices and half of the grated cheese.
Step 4: Drain the pasta and mix it with the eggs prepared in step 3.
Step 5: Put a little vegetable oil in a pan.
Step 6: Pour half of the pasta into the pan and flatten.
Step 7: Place the slices of smoked ham over the pasta, then the slices of salami, bacon and cheese.
Step 8: Put the rest of the pasta in the pan.
Step 9: Cover with a plate or lid and simmer for about 10 minutes.
Step 10: Turn the pasta over on a plate and then transfer it back to the pan.
Step 11: Let it fry on the other side for about 10 minutes.
Step 12: Enjoy this delicious spaghetti recipe