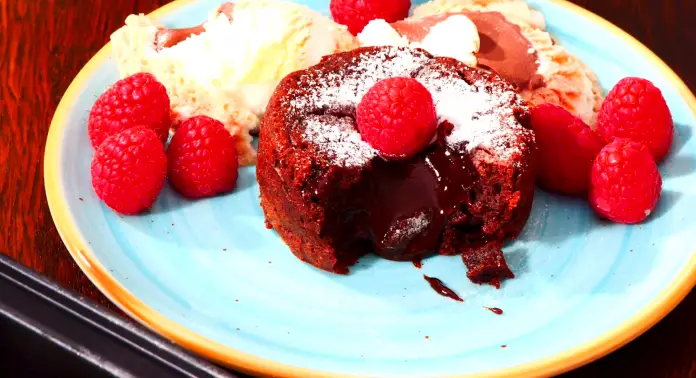 Chocolate Lava cake
Ingredients :
1 cup dark chocolate
⅓ cup unsalted butter
4 tbls. powdered sugar
2 tbls. flour
2 eggs
2 egg yolks
1 vanilla essence
1 confectioners' salt powder
This is the video recipe for chocolate lava cake : 
Step 1: Melt the chocolate together with the butter in a large mixing bowl.
Step 2: Add the powdered sugar in the bowl and mix well with a whisk.
Step 3: Add 2 eggs and 2 yolks and continue mixing using the whisk to incorporate the eggs.
Step 4: Add the vanilla or rum essence, flour and salt powder and mix well.
Step 5: Turn the oven to 400°F degrees to preheat it.
Step 6: Coat the inside of the lava cake ramekins with a little butter.
Step 7: Fill each ramekin with three quarters of the chocolate composition.
Step 8: Place the ramekins in a pan and place in the oven at 400°F degrees for 10 minutes.
Step 9: Remove the tray from the oven and turn the ramekins over on a plate.
Step 10: Powder with powdered sugar and add ice cream and fruits (per taste).
Step 11: We hope you will love it and prepare the chocolate lava cake. It is absolutely delicious and very easy to prepare!