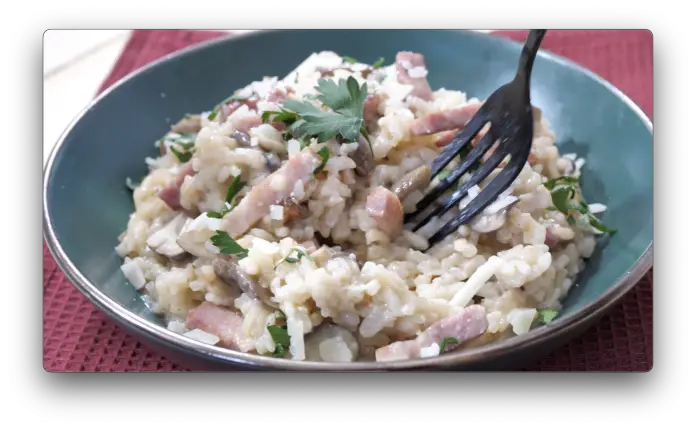 Delicious risotto recipe with bacon and mushrooms
Ingredients
3 tbsp olive oil
1 medium onion
5 strips of bacon, diced
8 ounces sliced wild mushrooms
1½ cups arborio rice
½ cup dry white wine
5 cups chicken broth
½ cup parmesan cheese, plus more for garnish
Parsley
1. Heat the oil in a deep frying pan and sauté the finely chopped onion for 3-4 minutes until translucent.
2. Add the bacon and fry it with the onion.
3. Add the mushrooms and cook for another 2-3 minutes.
4. Add the rice and stir constantly for 1 minute.
5. Pour the wine and boil gently for 2-3 minutes, stirring occasionally.
6. Add a measure of soup until it is absorbed by the rice. Repeat the process until the soup is finished. It will take about 25-30 minutes.
7. Once the rice is cooked, add the Parmesan cheese and mix.
8. Turn off the heat, add parsley to taste and stir.
9. Serve while hot!
10. Enjoy this delicious risotto recipe with bacon and mushrooms!