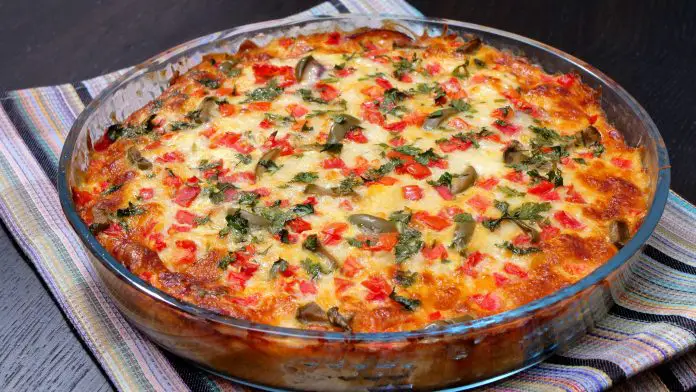 Pudding made with chicken breast and potatoes
Ingredients:
1 lbs (500 g) chicken breast;
1 cup (250 g) potatoes;
1 red onion;
Salt;
Pepper;
Paprika;
2 tbsp (30 ml) oil;
5 eggs;
2/3 cups (150 g)sour cream;
1 cup (200 g)mozzarella;
1 tomato;
1/2 bunch of green parsley;
1/4 cups (50 g ) green or black olives.
#dinner #chicken #recipes #chickenrecipes
Step 1: In a bowl add the diced chicken breast .
Step 2: Season with salt, pepper, paprika.
Step 3: Add the oil and mix all the ingredients.
Step 4: Add the cubed potatoes and the onion into the bowl and add the ingredients.
Step 5: In another bowl, beat the eggs.
Step 6: On top of the eggs, add the cream and mix until incorporated.
Step 7: Season the egg mixture with salt and pepper and pour it over the meat.
Step 8: Pour the entire composition into a baking dish and level it.
Step 9: Cover the entire surface with grated mozzarella.
Step 10: Place diced tomatoes, olives on top and season with chopped green parsley.
Step 11: Put the tray in the oven at 360 F (180 C) degrees for about 45 minutes.
Step 12: Enjoy this recipe with chicken breast and potatoes.
This chicken potato pudding is total comfort food and hearty casserole that the whole family will love for dinner or lunch! It's a super versatile recipe, allowing you to change up ingredients with ease. It's so creamy, cheesy and delicious!
This dish can be served with a simple green salad or with your favorite veggie, like broccoli or green beans.
Perfect for Sunday dinner, this easy-to-make meal will quickly become a family favorite!