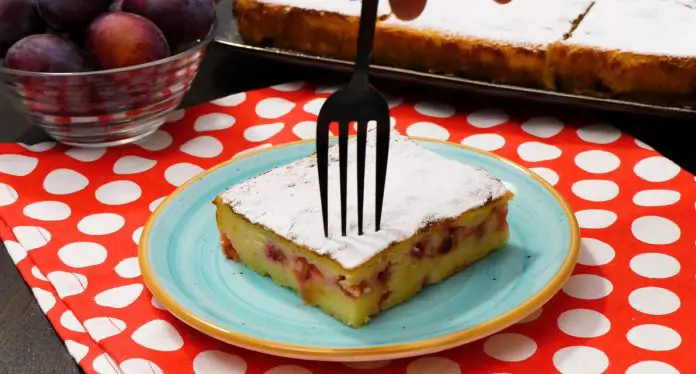 Delicious Plum cake
Ingredients:
3 eggs
2/3 cups (150 g) sugar
1 bag vanilla pudding powder
1.5 tsp ( 8 g) vanilla sugar
1 lbs (500 ml )sour cream
1/3 cups (75 g) semolina
-1 bag of baking powder
0.8 lbs (350 g) plums without seeds
1 tablespoon (20g) butter
2-3 spoons of powdered sugar.
Step 1: Mix the eggs with sugar and vanilla sugar until a creamy, foamy composition is obtained.
Step 2: Add the cream, pudding powder, semolina, baking powder and mix well.
Step 3: Add the washed, drained and sliced plums.
Step 4: Pour the mixture into a pan 11 x 10 (29/25 cm) greased with butter.
Step 5: Place the tray in the preheated oven at 360 F (180 degrees Celsius) for 40 minutes.
Step 6: Slice the cake after cooling and sprinkle with powdered sugar. Decorate with plum
Step 7: Enjoy this plum cake recipe.
Plum cakes are often enjoyed as a dessert or even as a sweet breakfast treat. They can be served warm or at room temperature. A dollop of whipped cream or a scoop of vanilla ice cream pairs wonderfully with the sweet-tart flavors of the plums.
A plum cake is a delectable dessert that showcases the rich and sweet flavors of plums within a moist and tender cake base. This dessert can come in various forms, from simple rustic cakes to more elaborate creations.
Here it is our way of capturing the essence of the season and bring forth the delightful flavors of ripe plums in every bite.