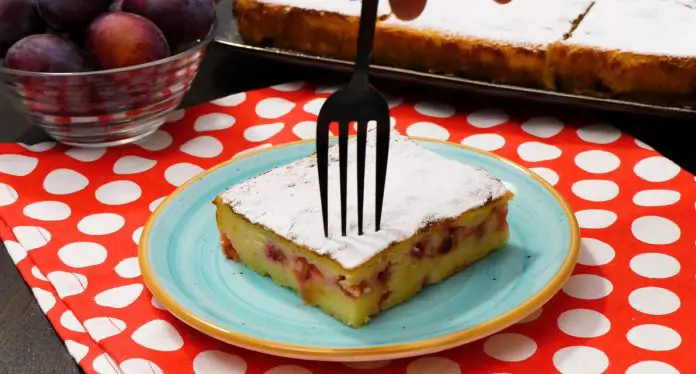 Delicious Plum cake
Ingredients:
3 eggs
2/3 cups (150 g) sugar
1 bag vanilla pudding powder
1.5 tsp ( 8 g) vanilla sugar
1 lbs (500 ml )sour cream
1/3 cups (75 g) semolina
-1 bag of baking powder
0.8 lbs (350 g) plums without seeds
1 tablespoon (20g) butter
2-3 spoons of powdered sugar.
Step 1: Mix the eggs with sugar and vanilla sugar until a creamy, foamy composition is obtained.
Step 2: Add the cream, pudding powder, semolina, baking powder and mix well.
Step 3: Add the washed, drained and sliced plums.
Step 4: Pour the mixture into a pan 11 x 10 (29/25 cm) greased with butter.
Step 5: Place the tray in the preheated oven at 360 F (180 degrees Celsius) for 40 minutes.
Step 6: Slice the cake after cooling and sprinkle with powdered sugar. Decorate with plum
Step 7: Enjoy this plum cake recipe.