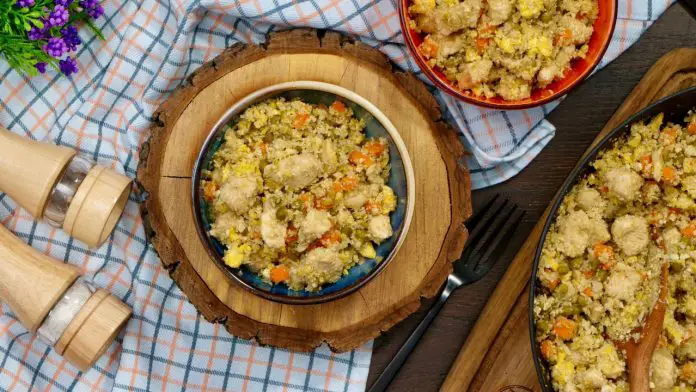 Chicken cauliflower fried rice
Ingredients
1 head cauliflower
2 tablespoons olive oil
1 chicken breast
1 cup peas (150 g)
1 cup carrot (120 g)
2 tablespoons soy sauce
2 teaspoons black pepper
1 teaspoon salt
3 eggs, beaten
2 tablespoons sesame seed
1. Remove all leaves and cut the cauliflower into small pieces.
2. Blend the pieces using a food processor until they get a rice-like texture. Be careful not to over process or it may turn mushy. Set aside, and drain excess moisture with a towel, if desired.
3. Using a large pan, fry the chicken until no pink is showing.
4. Add the peas, carrots, soy sauce, and black pepper.
5. Stir until most of the liquid has reduced, then add the cauliflower rice. Cook for about 3-4 minutes until the vegetables and chicken are incorporated evenly into the cauliflower.
6. Spread the content towards the edge of the pan, to create a small circle in the center.
7. Add the beaten eggs and , stirring only the eggs until they are cooked.
8. Fold the eggs into the rice, then mix in the sesame seeds.
Quick and easy cauliflower fried rice with chicken is a delicious, colorful and flavorful low-carb dinner that comes together in just 20 minutes! And it is so flavorful and satisfying!
The wonder of this recipe is that there's no rice at all! The "rice" part is 100% cauliflower and when chopped small, the tiny bits of cauliflower resembles the "rice". When cooked up, you don't miss the rice too much because the texture is so much like rice! Replacing the rice for cauliflower makes this recipe super low-carb and healthier.
I hope you give this easy cauliflower fried rice with chicken a try. It's such a quick weeknight dinner that the whole family will love!