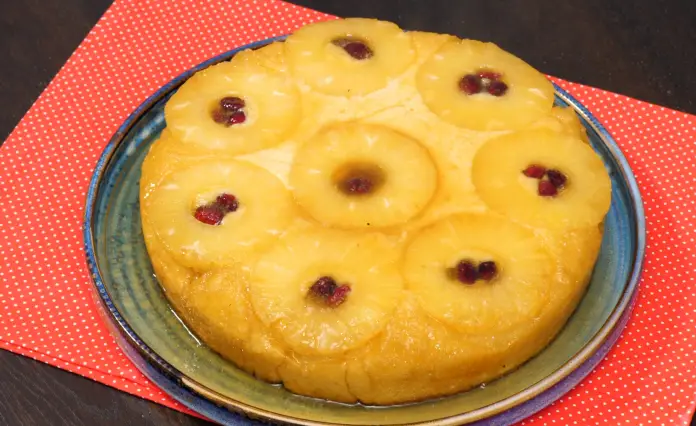 Upside down pineapple cake recipe
Cake base ingredients:
⁃ 2 cups flour;
⁃ 10 oz buttermilk
⁃ 1 cup sugar;
⁃ 1/2 cup oil;
⁃ 3/4 cups coconut;
⁃ 5 eggs;
⁃ 1 teaspoon vanilla essence;
⁃ 1 sachet of baking powder;
⁃ Salt
Ingredients for decoration:
⁃ 1 canned pineapple
⁃ 1/2 cup butter;
⁃ 2/3 cups brown sugar;
⁃ 2 tablespoons lemon juice,
⁃ 1/2 cup candied cranberries.
Step 1: Put the butter in a non-stick pan and melt over low heat.
Step 2: Add the brown sugar over the butter and mix with a spatula until it melts, then add the lemon juice and let it boil for about 2 minutes.
Step 3: Mix the caramel cream continuously to avoid burning, then pour into a baking dish with removable walls previously greased with butter.
Step 4: Place the pineapple slices drained of juice over the caramel cream.
Step 5: Fill the gaps with candied cranberries or other candied fruit.
The base is prepared as follows:
Step 1: Put the whipped milk in a bowl and add eggs over it.
Step 2: Mix well with a whisk or mix with a mixer until it gets smooth.
Step 3: Add vanilla essence, sugar to the composition and mix well.
Step 4: Mix the flour with the baking powder and sift into the composition.
Step 5: Add salt, coconut and lightly incorporate with a spatula.
Step 6: Add the oil and continue to mix until you get a perfectly homogeneous composition.
Step 7: Pour the obtained composition over the pineapple and bake it in the oven prea heated to 180 degrees.
Step 8: Bake for about 35-40 minutes, then turn off the heat, remove the cake and leave it rest. After it has cooled, carefully turn it over on a plate.
Step 9: Enjoy this upside down pineapple cake.