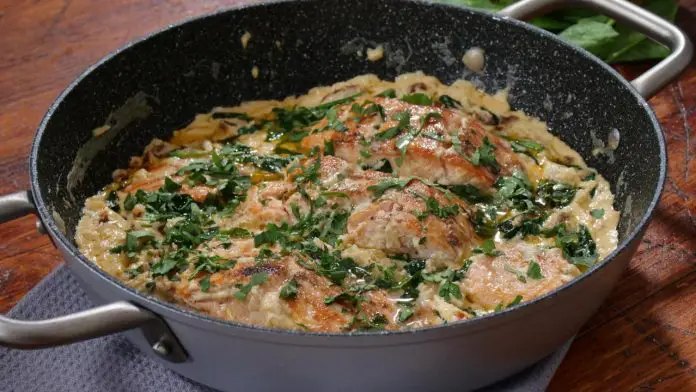 ONE POT CREAMY BUTTER SALMON
Quick Creamy Butter Salmon Recipe | Delicious Easy Dinner
Ingredients:
– 3 salmon fillets
– 2 tablespoons oil
– Salt, pepper, smoked paprika
– 1/4 cups butter
– 3 cloves of garlic
– 1 onion
– ½ cup dry white wine
– ½ cup dried tomatoes
– 1 ½ cups heavy cream
– ½ cup baby spinach
– ½ cup parmesan
1. Season the salmon with salt, pepper and smoked paprika.
2. Heat the pan well, then add 2 tablespoons of oil.
3. Put the salmon fillets in the pan and cook for 5 minutes on each side.
4. After cooking, remove the salmon and melt the butter in the same pan.
5. Saute the garlic in butter for about 1 minute, then add the onion. Cook together until the onion becomes translucent.
6. Add the wine, sun-dried tomatoes and sour cream – after each ingredient added, mix lightly in the sauce to blend the flavors.
7. Add the spinach and Parmesan cheese and simmer for another minute.
8. Put the salmon fillets in the sauce, mix and sprinkle with green parsley.
9. Turn off the heat and serve the freshly squeezed lemon salmon on top.
10. Enjoy the salmon recipe in butter and garlic sauce!