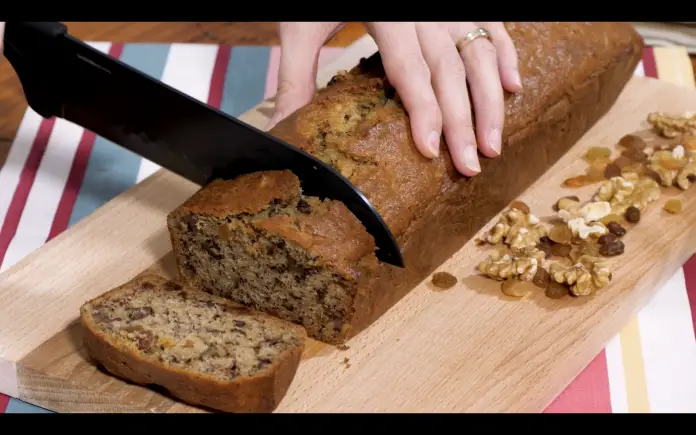 The easiest banana bread recipe . Delicious banana bread with walnuts and sweet raisins.
Ingredients
6 bananas
1 cup butter
1 cup sugar
4 eggs
3 cups flour
2 tsp baking soda
1 tsp salt
1 tsp vanilla extract
2 cups walnuts
1 cup raisins
Preheat the oven at 350°F and bake it for 50-60 mins
1. Preheat the oven 350 ° F. Grease with butter and line the tray / trays with baking paper. We used two cake trays, one 5 x 15 inch and a smaller one 5×8 inch. You can bake the banana bread composition in any type of oven tray (classic shapes or cake), leaving about 1 finger to the top edge when you pour the composition into the tray.
2. In a large bowl, mix the soft butter with the sugar.
3. Separately, with a fork, mash the bananas very well.
4. Add the mashed bananas over the butter and sugar mixture, together with the eggs. Mix very well until it's smooth.
5. Mix flour with baking soda and salt. Add this mix over the banana composition. Blend everything, without mixing in excess, only until you can see no traces of dry flour.
6. Add the vanilla essence, walnuts and raisins. Lightly blend with a spatula.
7. Pour the composition into the trays prepared in step 1. Put the banana bread in the preheated oven at 350°, at a medium height. Bake it for about 50-60 minutes, until a toothpick stuck in the center of the bread comes out clean.
8. Once well baked, let it cool slightly in the pan for 10 minutes. Then take the banana bread out of the pan and leave it on a plate until it cools completely.
9. We wish you to enjoy this banana bread recipe.