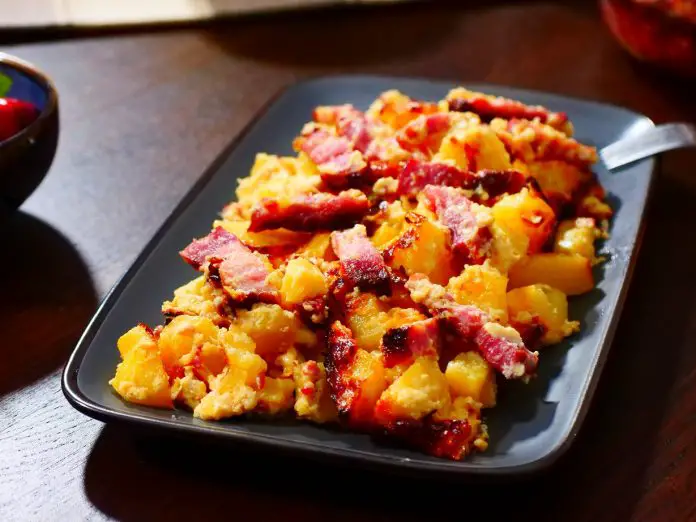 Carbonara potatoes amazing and delicious recipe
Ingredients :
3 lbs potatoes
5 egs
1 cups + ¾ cup sour cream
8 strips bacon, chopped
2 cups cheese
1 cup parmesan cheese
Salt and peper to taste
This is the video recipe for Carbonara potatoes :
Step 1. Wash and peel 3 lbs of potatoes. Boil the whole potatoes and add salt. Boil for 25-30 minutes.
Step 2. Cut the boiled potatoes and then place them in a baking dish (9×13).
Step 3. Cut the bacon.
Step 4. Put the bacon in a pan and cook for about 6-7 minutes or until it gets a crust.
Step 5. Using a whisk, mix in a bowl 1 cups + ¾ cup sour cream with 5 yolks.
Step 6. Then add the grated cheese, parmesan, salt and pepper. Mix well.
Step 7. Add the bacon over the potatoes.
Step 8. Pour the mix in the baking dish on top of the potatoes.
Step 9. Stir a few times until the potatoes are mixed with the sour cream sauce.
Step 10. Put in the preheated oven at 374°F degrees for 30-35 minutes or until nicely browned on top.
Step 11. Serve the hot carbonara potatoes with freshly chopped parsley.
Step 12. Enjoy your meal and we hope you loved our carbonara potatoes recipe.