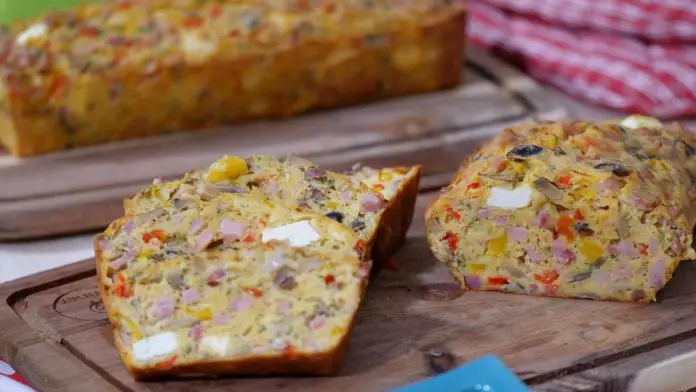 The famous "pizza cake" recipe
Ingredients:
8 eggs
¾ cup + 1 tbsp heavy cream
5 tablespoons oil
Salt
1 cups + ¼ cup flour
1 1/2 confectioners baking powder
2 peppers (one red, one yellow);
8.75 oz salami (to your taste);
5.25 oz pressed ham;
7 oz mushrooms (canned slices);
5.25 ozsliced olives;
1 green dill tie;
7 oz salty feta cheese;
3.5 oz grated cheese.
Step 1: Cut the peppers into cubes .
Step 2: Slice the feta cheese into cubes.
Step 3: Cut the salami into small pieces.
Step 4: In a deep bowl mix eggs with a pinch of salt until they turn into a foam.
Step 5: Add the cream and continue mixing.
Step 6: Pour the oil and mix for another 2 minutes.
Step 7: Mix the flour with the baking powder and pour it over the dough.
Step 8: We mix it all together.
Step 9: Add the salami, ham, olives, mushrooms, chopped dill and pepper and incorporate them into the dough.
Step 10: Put the feta and grated cheese and mix lightly.
Step 11: Pour the composition into the baking tray, previously greased with oil or lined with baking paper.
Step 12: Put in the oven, in the preheated oven at 360 °F for 40-45 minutes.
Step 13: When the cake has browned on top and passes the toothpick test (the composition no longer sticks to the toothpick), take it out of the oven and let it cool for 5-10 minutes in the pan.
Step 14: Enjoy this great "pizza cake" recipe.