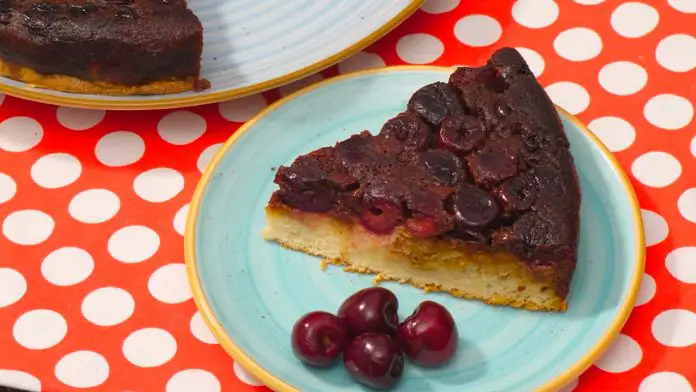 Cherry cake recipe
Ingredients:
2 lbs cherries;
12 spoons of sugar for caramelizing;
3/4 cups fatty butter;
6 eggs;
1 pinch of salt;
Juice from half a lemon;
4 tbsp sugar;
5 tbsp oil;
10 tbsp sparkling water;
1 tsp vanilla essence;
6 tbsp flour.
Bake it in the preheated oven at 360 F for 40 min
Step 1: Caramelize the sugar in the non-stick pan.
Step 2: Put the cherries (pitted) in a round tray. Place them to cover the bottom of the tray.
Step 3: Put the caramelized sugar on top of the cherries and then the pieces of butter.
Step 4: Separate the whites from the yolks.
Step 5: Place the egg whites in a deep bowl.
Step 6: Put a pinch of salt, lemon juice and 4 tablespoons of sugar and mix until you get a firm meringue.
Step 7: Put the oil on top of the yolks and mix them well.
Step 8: Pour the egg yolks over the meringue and mix.
Step 9: Add vanilla essence and sparkling water and mix a little more.
Step 10: Using a spatula, gently incorporate the flour from the bottom up.
Step 11: Pour the obtained dough over the cherries and put the tray in the oven, in the oven preheated to 360 F for about 40 minutes or until it passes the toothpick test.
Step 12: Remove from the oven, let it cool a little, then turn the cake onto a plate.
Step 13: Enjoy this cherry cake recipe.
Cherry cake recipe
Are you looking for a delicious summer cake recipe? This cherry cake is your answer to everything! Serve it at breakfast alongside a cup of coffee, at brunch, as a midafternoon snack, or as an after-dinner dessert with a scoop of vanilla ice cream!
This is the best homemade summer cake to make during the cherry season! t's an easy and quick dessert and it can become a family favorite recipe. It also looks gorgeous and is perfect for special occasions and for entertaining guests.