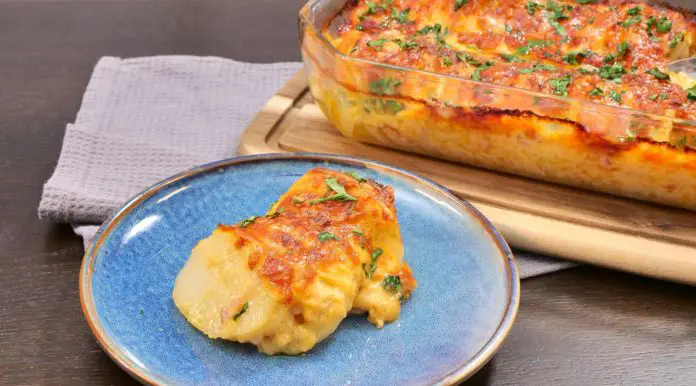 Cheesy au gratin potatoes recipe
Ingredients:
-6-7 medium potatoes
-½ white or yellow onion
-1 cup chopped bacon
-2 tablespoons salted butter
-1/4 cups all purpose flour
-1 ½ cups regular milk
-2 cups cheddar cheese
-1 teaspoon salt
-1/2 teaspoon black pepper
-1 teaspoon garlic powder
For topping:
-1/2 cup cheddar cheese
-1/4 cup parmesan
For garnish:
-fresh chopped parsley
Preparation method:
1. Preheat the oven to 360 F (180 degrees C)
2. Grease a pan with butter or oil.
3. Cut the potatoes into rounds and place them in the tray in two or three slanted rows, depending on the size of the tray you have.
– Do your best to make sure the potato slices are even and about 1/8 inch (3.20 mm) thick. If you have a mandolin type grater, it's great!
– Also, when you place the potato slices in the pan, make sure that they are not too crowded together and that they have enough space, so that they are slightly tilted.
4. Add the onion slices between the potato rings and on top of them.
5. Brown the bacon slices in a pan for 2-3 minutes.
6. In the same pan, next to the bacon, add the butter. When it is melted, add about 1/3 of the amount of flour and mix. Add 1/3 of the amount of milk and incorporate it into the sauce. Alternatively, add the flour and milk to the sauce and mix until the sauce is smooth and there are no more lumps.
7. Add the cheddar cheese and mix until it melts completely.
8. Add salt, pepper and garlic powder and incorporate them into the sauce.
9. Pour the sauce over the potatoes, cover the pan with aluminum foil and cook everything in the oven for 45 minutes.
10. After 45 minutes, remove the aluminum foil and sprinkle the cheddar and parmesan cheese topping over the potatoes.
11. Put the tray back in the oven for another 30-45 minutes or until the potatoes form a golden crust on top. The potatoes are ready when their middle can be easily pierced with a fork.
12. Remove the tray from the oven and decorate the potatoes with freshly chopped parsley.
13. Enjoy this cheesy au gratin potatoes recipe
Cheesy au gratin potatoes recipe
Cheesy au gratin potatoes are a classic side dish that combines thinly sliced potatoes with a rich and creamy cheese sauce. Baked until golden and bubbly, this dish offers a comforting blend of textures and flavors that make it a beloved addition to many meals.
Potatoes Au Gratin is a dish that you can have anytime of the year, although my favorite time to enjoy them is during the fall and winter. They make a perfect side dish with just about anything. It pairs well with roasted meats, grilled poultry, or even as part of a brunch spread.
Whenever I make these potatoes, they're always the first thing to disappear !!