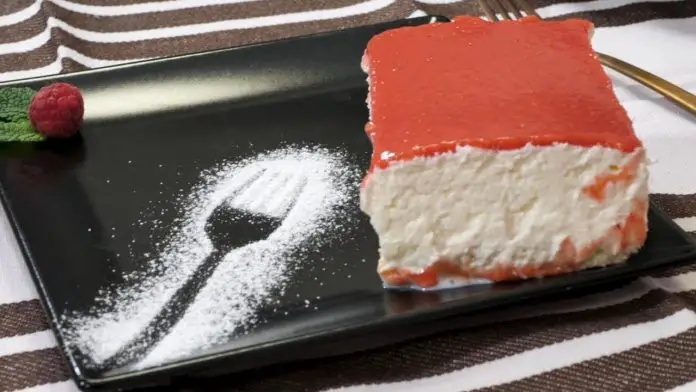 Strawberry jelly and cream cheese cake
Ingredients:
1/2 cup liquid cream;
1/2 cup powdered sugar;
2 cups mascarpone;
2 cups cream cheese;
1 cup sour cream;
1 cup sugar;
1 tsp lemon juice;
1 vanilla essence;
1 cup ladyfingers;
1 cup milk;
3 cups frozen strawberries;
1 tbsp cornstarch.
Step 1: Mix the whipped cream until it hardens.
Step 2: Add the powdered sugar and continue mixing until incorporated.
Step 3: In a deeper bowl mix mascarpone with cream cheese and 1/3 cup sour cream.
Step 4: Add the rest of the sour cream, whipped cream prepared in step 2, sugar, lemon juice and vanilla and continue to mix to obtain a homogeneous cream.
Step 5: Prepare a tray measuring 10×8 inch.
Step 6: Soak each biscuit in milk and place it in the pan.
Step 7: Pour the cream cheese over the biscuits and level it all over the surface.
Step 8: Place the tray in the fridge for 1-2 hours.
Step 9: Put the strawberries in the blender and crush them. If you want a sweeter jelly, add 2-3 tbsp sugar in the blender.
Step 10: Put the crushed strawberries in a saucepan and heat them until they reach the boiling point.
Step 11: Add the cornstarch and continue to boil the composition for 5-10 minutes, stirring constantly.
Step 12: Let the jelly cool a bit, then pour it over the cream cheese evenly.
Step 13: Place the tray in the fridge for 3-4 hours.
Step 14: Enjoy this cake recipe with cream cheese and strawberry jelly!