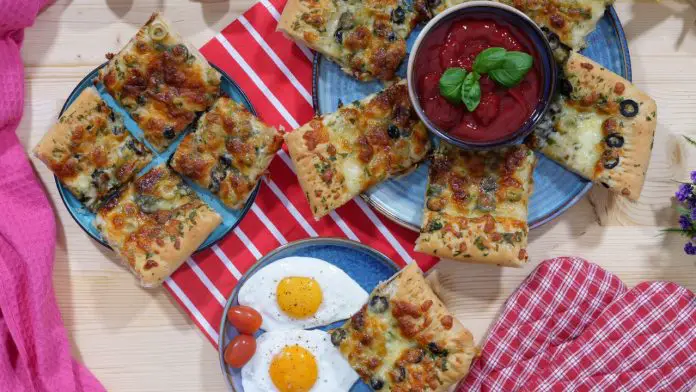 Focaccia with herbs and garlic
Ingredients:
For maya:
1 tsp dry yeast;
1 tsp sugar;
Salt;
2 tbsp flour;
1 cup water.
For the dough:
2 cups flour;
2-3 tsp oil.
For the green sauce:
1 tbsp olive oil;
3 cloves of garlic;
Parsley;
Basil leaves.
For composition:
1/2 cup sliced ​​black olives;
1/2 cup sliced ​​green olives;
1 cup mozzarella (1/3 cut into sticks; and the rest scraped).
Step 1: Put the yeast, sugar, salt powder, flour and water in a bowl
Step 2: Stir until the yeast dissolves and leave it in a warm place for 10 minutes to activate the yeast.
Step 3: Put the flour in a deeper bowl, add the mayonnaise and start kneading.
Step 4: Add oil from time to time to give the dough elasticity.
Step 5: When the dough is fluffy and non-sticky, cover it and leave it in a warm, leavened place until it doubles in volume.
Step 6: Remove the dough from the bowl, place it on the worktop and spread it with the rolling pin.
Step 7: Transfer the dough in an oven tray lined with baking paper.
Step 8: Place the mozzarella sticks on the edges of the dough.
Step 9: Glue the edges.
Step 10: Using a pizza slicer, cut the dough into squares.
Step 11: Prepare the vegetable sauce, mixing in a bowl: olive oil, crushed garlic, parsley and chopped basil.
Step 12: With a brush, spread the green sauce over the entire surface of the dough (including the edges).
Step 13: Place the black and green olives (as desired).
Step 14: Sprinkle grated mozzarella and place it in the preheated oven at 360°F for 20-25 minutes.
Step 15: Remove the tray and slice the focaccia as you desire.
Step 16: Enjoy this delicious focaccia recipe with herbs and garlic. It is very fluffy and even tastier than pizza!