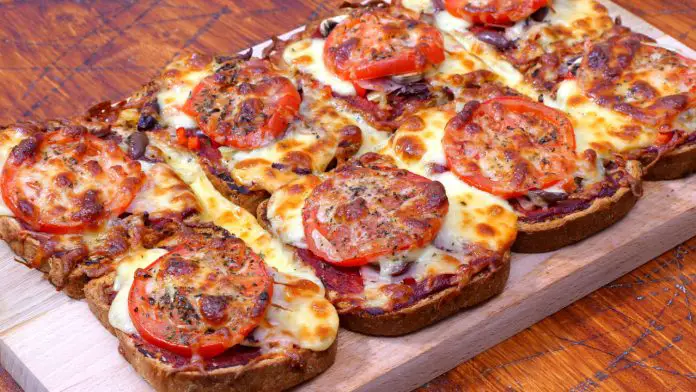 Pizza on slices of bread
Ingredients:
8 slices of toast bread;
5 oz tomato sauce;
1 tsp chopped basil;
1/2 red pepper;
1/2 green pepper;
7 oz ham
1 tbsp olives;
1 cup mozzarella;
3 mushrooms;
2 tomatoes.
Step 1: Cut the peppers into cubes.
Step 2: Slice the tomatoes and mushrooms.
Step 3: Divide the mozzarella into 2 parts. Grate one part, and cut the other into sticks
Step 4: Cut the ham and olives as desired.
Step 5: In a tray lined with baking paper, place the slices of bread.
Step 6: Brush each slice with tomato sauce.
Step 7: Sprinkle basil or oregano on top of each slice for extra flavor.
Step 8: Sprinkle the peppers, ham, olives and mushrooms on each slice.
Step 9: Distribute the mozzarella sticks on each slice but also between the slices of bread.
Step 10: Place a slice of tomato on each piece of bread.
Step 11: Sprinkle the grated mozzarella and basil.
Step 12: Put the baking tray in the preheated oven at 400 F degrees for 10-15 minutes.
Step 13: Enjoy this delicious and quick pizza recipe!
Looking for a quick and delicious pizza recipe? Try our fastest and tastiest pizza recipe! Made with fresh ingredients and ready in under 15 minutes, this pizza is sure to impress. With a crispy crust, savory sauce, and your favorite toppings, you won't believe how easy it is to make a homemade pizza that tastes better than delivery. Get the recipe now and satisfy your cravings with the best pizza ever!
We all love pizza, but sometimes we just don't have the time to make and bake a pizza dough or order and wait on pizza delivery. This pizza toast can be made in 15 minutes and we all love it! Pizza Toast is a simple and quick dish made by topping a slice of toast with ingredients typically found on a pizza.
The pizza toast is great for lunch but also for a quick snack and you can adapt it with all your favorite toppings. Chunky slices of toast topped with a homemade pizza sauce, cheese, vegetables and any other pizza topping you like. t's a tasty and convenient way to enjoy the flavors of pizza in a different form!
I hope you'll love our pizza toast recipe!