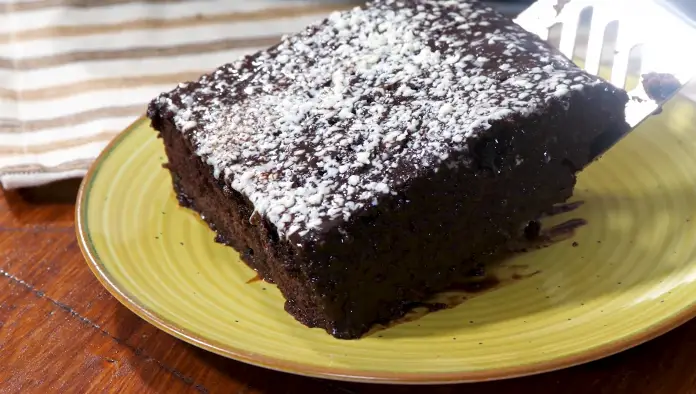 Easy to cook Chocolate Cake
Ingredients
½ cup milk
1 tbsp vinegar
½ cup + 3 tbsp sugar
½ cup oil
2 cupsflour
3 tbsp cocoa;
2 tsps baking powder
1 tsp baking soda
½ cup hot water
Ingredients for topping:
½ cup sugar
3 tbsp cocoa
¼ cup oil;
1 cups + ½ cup milk
¼ cup + 3 tbsp dark chocolate
Step 1: Add milk, vinegar, sugar and oil to a bowl and mix with a whisk until the sugar melts.
Step 2: Pour flour, cocoa, baking powder and baking soda into a sieve
Step 3: Sift them into the mixture prepared in step 1 and continue to mix thoroughly to incorporate the ingredients.
Step 4: Add warm water and continue mixing.
Step 5: Pour the mix in a pan greased with oil and lined with baking paper.
Step 6: Preheat the oven at 338°F and bake it for 40-45 mins.
Step 7: Remove the tray from the oven and let the cake cool in the pan until the topping is ready.
Step 8: In a saucepan add the sugar, cocoa, oil and milk and mix until the sugar is partially dissolved.
Step 9: Add the chocolate and heat the pan.
Step 10: Stir until the chocolate melts and the syrup boils.
Step 11: Turn the cake over on a chopping board to remove the baking paper.
Step 12: Put the cake back in the pan.
Step 13: Cut it into 6 equal pieces, and with the help of a fork we prick it from place to place.
Step 14: Pour the topping over the entire surface of the cake and leave it soak.
Step 15: Sprinkle with grated white chocolate for decoration.
Step 16: Enjoy the delicious brownie!