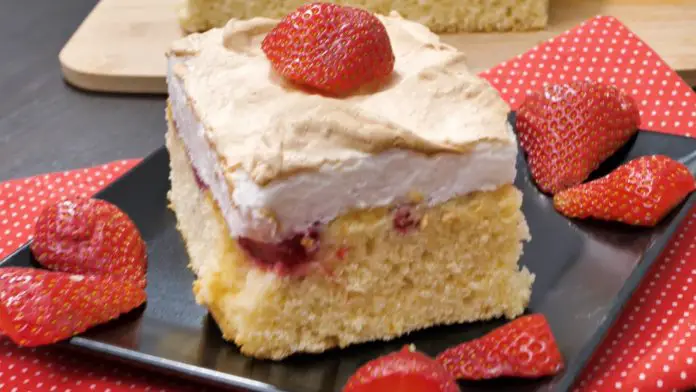 Strawberry meringue cake
Ingredients
5 eggs;
3/4 cups sunflower oil;
3/4 cups milk;
1 cup flour;
1 cup sugar;
1/2 sachet baking powder;
1 teaspoon salt
lemon peel;
Vanilla essence
Fresh strawberries 1 cup
5 egg whites;
1 cup sugar;
1 tsp of salt
Bake it at 360 F for 25 min
Bake it again for 15 min
Step 1: Slice the strawberries into suitable pieces.
Step 2: Separate the egg whites from the yolks.
Step 3: Mix the egg whites with a pinch of salt until you get a foam.
Step 4: Add the sugar over the egg white foam, gradually and continue to mix until the sugar melts.
Step 5: Mix the flour with the baking powder and gradually incorporate it with a spatula into the egg composition.
Step 6: In a bowl, mix the yolks with the oil for about 1 minute.
Step 7: Add the milk and vanilla essence, stirring lightly.
Step 8: Pour the yolk mixture over the dough and stir with a whisk.
Step 9: At the end, for extra flavor, add the lemon peel and stir a little more.
Step 10: Pour the composition into a tray lined with baking paper.
Step 11: Place the strawberry slices on the entire surface of the countertop.
Step 12: Put the tray in the oven in the preheated oven at 360 F for about 25 minutes.
Step 13: Prepare the meringue by mixing the egg whites with a pinch of salt until you get a foam.
Step 14: Gradually pour the sugar and mix until you get a firm meringue.
Step 15: Remove the countertop from the oven and place the meringue on top of the entire surface.
Step 16: Put the tray back in the oven until the meringue is browned (about 10-15 minutes).
Step 17: When the cake is ready, remove the tray and let the cake cool.
Step 18: Enjoy this delicious strawberry and meringue cake.