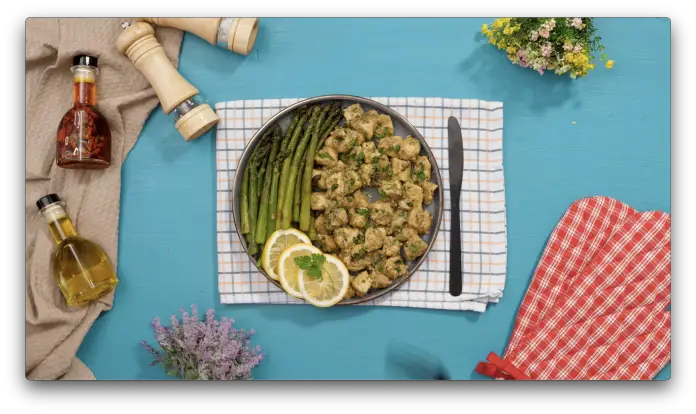 BUTTER GARLIC CHICKEN BITES WITH ASPARAGUS
Ingredients:
Prep the chicken:
– 1 lbs chicken breasts – boneless, skinless
– 1 tsp salt to taste
– ½ tsp black pepper powder
– 1 tsp garlic powder
– 2 tbsp cornflour
Prep the sauce:
– 1 tbsp butter
– 1 tbsp olive oil
– 2 tbsp chopped garlic
– 1 cup chicken stock
– ½ tsp red chilli flakes
– 1 tsp oregano
– 2 tsp fresh parsley
– 1 tsp soy sauce
– ½ tsp coriander
Prep the asparagus:
– 1 large bunch asparagus
– 1 tbsp butter
– 1 tbsp olive oil
– 1 tbsp chopped garlic
– 1 tsp salt
Step 1: Cut the chicken into cubes and mix well with salt, pepper, garlic powder and cornflour.
Step 2: Heat the pan well and add the butter and olive oil. After melting the butter, place the chicken in the pan until it gets a brown colour, then take it out and set it aside.
Step 3: In the same pan, sauté the garlic in a little butter, then add the chicken broth, salt and pepper to taste, chilli flakes, oregano, parsley, soy sauce and coriander.
Step 4: Add the chicken to the pan and mix well until the sauce thickens slightly.
Step 5: Turn off the heat, add the rest of the parsley and mix well with the chicken.
Step 6: To cook the asparagus, you need to first remove the woody part of its stem, about 2 cm.
Step 7: Heat the butter and oil in a pan and sauté the garlic.
Step 8: Add the asparagus to the pan and cook it in the mixture of butter and garlic, season it with salt and mix frequently, so that the asparagus rotates and cooks evenly. The whole process takes about 7-8 minutes, until it softens and browns slightly.
Enjoy the butter garlic chicken bites with asparagus recipe