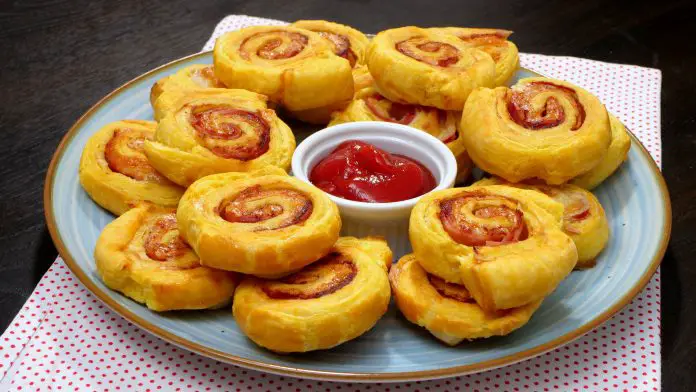 Ham and cheese Pinwheels, easy and delicious recipe
Appetizer with ham and puff pastry
Ingredients:
1 lbs (400 g)puff pastry
10 ham slices
5 oz (150 g) cheese
1 egg
Step 1: If it's frozen, leave the puff pastry at room temperature for 1 hour.
Step 2: Grate the cheese.
Step 3: Place the dough on the work surface.
Step 4: Place the ham slices in two rows, overlapping the slices.
Step 5: Sprinkle the cheese on top of the ham slices.
Step 6: Beat 1 egg.
Step 7: brush the remaining free surface with egg.
Step 8: Roll the dough tightly to obtain a compact roll.
Step 9: Cut the ends of the roll and then portion it into slices.
Step 10: Line a tray with baking paper and place the roll slices.
Step 11: Using a brush, brush each slice with beaten egg.
Step 12: Put the tray in the preheated oven at 360 F (180 C) for 20 minutes.
Step 13: Remove the tray and let it cool.
Step 14: Enjoy this Ham and cheese Pinwheels recipe
You're going to fall in love with these flaky, crunchy, savoury snacks!
These ham and cheese pinwheels take just 10 minutes to prepare and will be ready to eat in less than 30 minutes. Perfect for lunch boxes, party food or appetisers.
These little rolls are absolutely delicious and are perfect for almost any occasion, like birthday parties, game day, or even as a main course. Best of all, they're super easy to make with just 4 ingredients.
You must try these ham and cheese pinwheels!