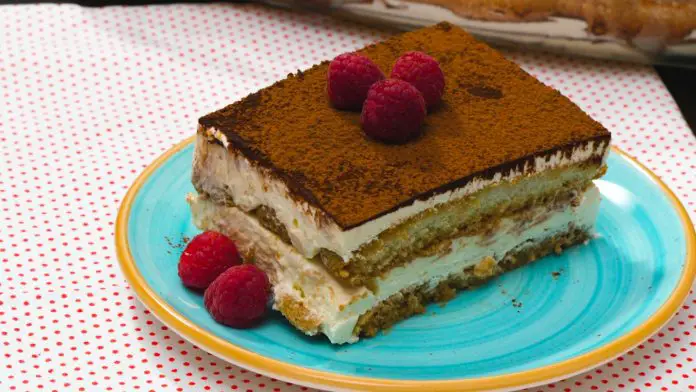 Best homemade tiramisu recipe
Ingredients for a 8×12 inch pan (20×30 cm pan):
10 oz ladyfingers
4 egg yolks
1/2 cups sugar
1/2 cups milk
2 cups mascarpone
1 cup liquid whipped cream
1/4 cups Rum essence
10 oz Coffee
2 tbsp powdered sugar
1 tbsp Cocoa powder
Raspberries for decoration.
Step 1: In a bowl, mix 1/2 cups sugar with the 4 egg yolks until the cream turns white.
Step 2: Add 1/2 cups milk and mix until the contents are homogenized and all the sugar is dissolved.
Step 3: Put the bowl in the steam bath and mix continuously with a spatula for about 10 minutes.
Step 4: Allow the egg mix to cool completely.
Step 5: In a large bowl, mix the mascarpone cream and 1 cup liquid whipped cream for a few minutes (Both must be cold from the fridge. )
Step 6: Add the mixture of egg yolks prepared previously and mix for another 2-3 minutes so that you get a fine homogeneous cream.
Step 7: Put the cream in the refrigerator until you use it.
Step 8: Prepare 10 oz coffee and let it cool.
Step 9: Add 2 tbsp powdered sugar and 1 tbsp rum essence to the coffee.
Step 10: Dip one ladyfinger at a time into the coffee for about 2-4 seconds.
Step 11: Place a layer of ladyfingers over the entire surface of the pot.
Step 12: Evenly spread half of the prepared cream.
Step 13: Then place the second layer of coffee-soaked ladyfingers on top of the cream.
Step 14: Spread the second half of the cream over the ladyfingers.
Step 15: Cover the pan with cling film and refrigerate the pan overnight.
Step 16: Remove from the fridge and spread cocoa on top.
Step 17: Decorate with raspberries (if you want)
Step 18: Enjoy this homemade tiramisu recipe
A rich and creamy Italian dessert that features espresso and ladyfingers, layered between a sweet and velvety mascarpone custard filling, topped with a dusting of cocoa.
Tiramisu is a favorite dessert for coffee lovers, offering a perfect balance between the sweetness of the mascarpone and the slight bitterness of the coffee. Its creamy texture and nuanced flavors make it a classic treat that's perfect for special occasions or any time you want to indulge in an authentic Italian dessert experience.