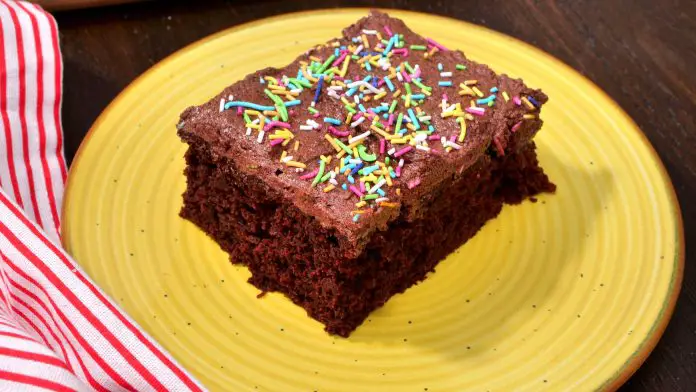 Chocolate Banana Cake
What is the difference between banana bread and banana cake?
Banana bread is baked in a loaf pan and has a firmer, dense texture. Banana cake has a soft crumb and is great for adding sweet frosting!
Ingredients
For the cake:
– ½ cup (100 g) unsalted butter, softened
– 1 cup (200 g) granulated sugar
– 1 large egg
– 1 teaspoon vanilla extract
– 3 medium bananas, mashed
– 1 ½ cups (300g) all-purpose flour
– 1 teaspoon baking powder
– 1 teaspoon baking soda
– ½ teaspoon kosher salt
– ½ cup (100g) unsweetened baking cocoa
For the Frosting:
– 1 cup (200 g)unsalted butter, room temperature
– 3 ½ cups (600 g) powdered sugar
– ½ cup (100 g) unsweetened baking cocoa powder
– 1 tsp almond extract
– ½ cup (100 g) heavy whipping cream
1. Mix the butter with the sugar in a large bowl, until the mixture becomes creamy.
2. Add the egg and vanilla and incorporate.
3. Add the bananas and mix them into the composition.
4. Next, add the flour, baking powder, sodium bicarbonate, salt and cocoa. Mix with a wooden spoon or a spatula until all the ingredients are combined.
5. Pour the mixture into a pan (lined with butter and flour) and put it in the oven preheated to 340 F (175 C) for 25 min.
6. Remove from the oven and let it cool completely.
7. For the frosting, mix the butter for 3-5 minutes.
8. Add sugar, cocoa, almond extract and heavy whipping cream to the butter. Mix for another 3-5 minutes, until the composition lightens a little in color and acquires a creamy texture.
9. Decorate the cake with cream.
10. It is recommended to leave the cake in the refrigerator for a few hours before serving. The flavor is best when it's cold!
11. Enjoy this chocolate banana cake recipe
Chocolate Banana Cake is the perfect marriage of chocolate and bananas. It bakes up moist and tender and it's topped with a creamy chocolate frosting. It won't last for long because everyone will want to have a second slice!