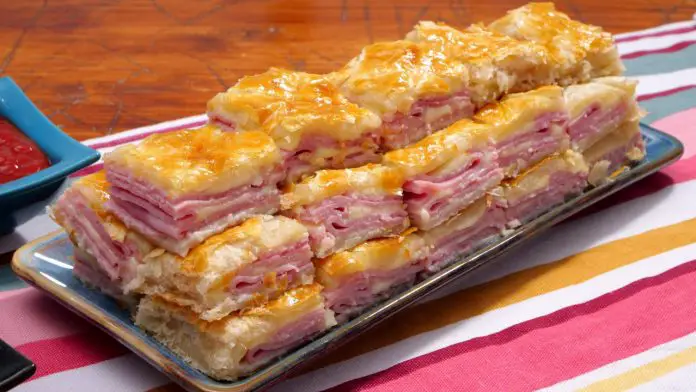 Appetizer with ham and cheese
Delicious snack with ham and cheese, quick and easy recipe
Ingredients:
2 lbs puff pastry
1 lbs sliced ​​ham
0.5 lbs sliced ​​cheese
0.5 lbs grated cheese
1 egg
Step 1: Line a regular baking tray with baking paper.
Step 2: Place the first sheet of puff pastry in the pan.
Step 3: Place the ham slices evenly, leaving 0.4 inch (1 cm) on each edge of the dough.
Step 4: Spread the sliced ​​cheese evenly over the ham.
Step 5: Place another row of ham.
Step 6: Sprinkle the grated cheese evenly.
Step 7: Cover with the puff pastry sheet and fold the edges so that they stick together.
Step 8: Press the edges with a fork to stick very well.
Step 9: Draw a few lines on the top sheet with a knife so that the puff pastry does not puff up too much in the oven.
Step 10: Beat an egg and brush the entire surface of the pastry.
Step 11: Put the pan in the preheated oven at 360 F (180 degrees Celsius) for 25 minutes.
Step 12: Portion after cooling according to preferences.
Step 13: Enjoy this delicious recipe of appetizer with ham and cheese.
These little ham and cheese appetizers are delicious and so easy to make. It's the perfect easy puff pastry appetizer, or enjoy it alongside a salad as a quick meal. Baked until puffed and golden, the ham and cheese puff pastry makes a pretty, yet rustic presentation. It's perfect for casual gatherings with friends.
This is one appetizer you'll keep making again and again!