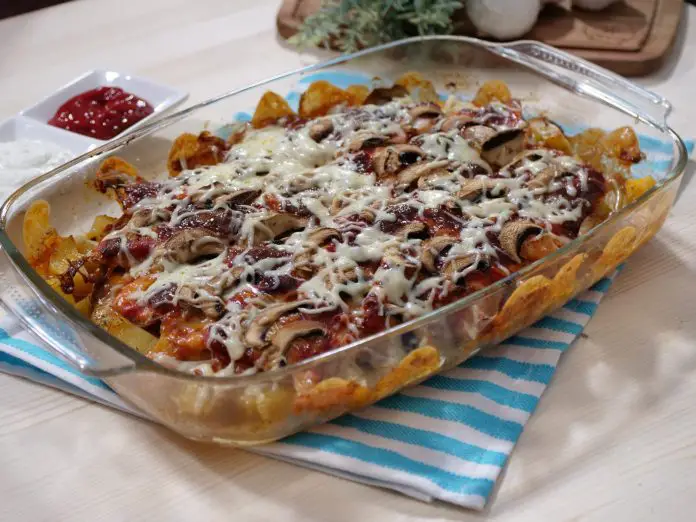 Chicken with mozzarella cheese, bacon and mushrooms recipe
Ingredients:
2 pieces chicken breast (sliced)
​​1/2 lbs sliced bacon
10 medium potatoes;
Salt;
Pepper;
1/2 teaspoon basil;
1/2 teaspoon oregano;
1/2 teaspoon paprika;
2 teaspoons olive oil;
4 cups mushrooms;
3 cups of tomato juice;
4 cups mozzarella;
2 cups minis mozzarella.
Step 1: Cut the potatoes into pieces.
Step 2: Slice the mushrooms.
Step 3: Put the mashed potatoes in a bowl.
Step 4: Add the spices (salt, pepper, basil, rosemary, paprika) and olive oil and mix.
Step 5: In a thermo-ceramic pan, greased with a little oil, place the potatoes in layers.
Step 6: Add a layer of mushrooms.
Step 7: Place the bacon slices on top of the mushrooms.
Step 8: Put another layer of chicken breast slices (seasoned as you prefer).
Step 9: Put a tablespoon of tomato sauce on each slice of chicken breast.
Step 10: Sprinkle grated mozzarella on top.
Step 11: Place another row of sliced ​​mushrooms.
Step 12: Place the minimozarella as desired.
Step 13: Preheated oven at 360°F and keep the tray for about 45 minutes.
Step 14: Remove the tray from the oven and sprinkle more mozzarella.
Step 15: Enjoy this delicious recipe of chicken breast with mushrooms, potatoes, mozzarella and tomato sauce!