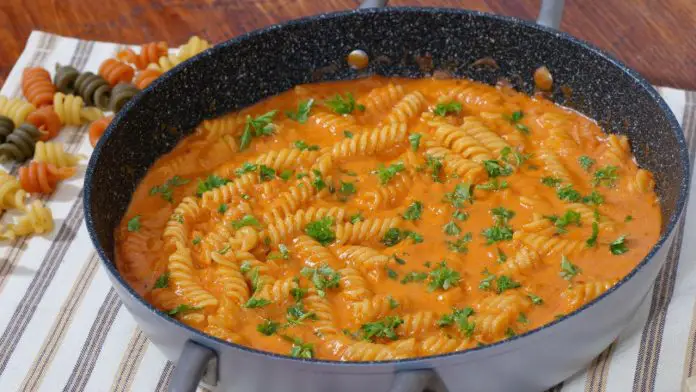 Recipe of creamy pasta and 3 types of cheese:
Ingredients:
2 cups pasta
1 small onion
3 cloves garlic
3 tbsp Tomato paste
1/4 teaspoon salt
1/2 teaspoon pepper
1/2 teaspoon oregano
3/4 teaspoon sugar
1/4 teaspoon chile
½ cup milk
½ cup cream
2 cups cheddar cheese
2 cups mozzarella cheese
½ cup butter
Step 1: Boil the pasta in a liter of water, together with a teaspoon of salt.
After boiling, drain and keep 1/2 cup of water in which the pasta was boiled.
Step 2: In a deeper pan, heat the oil and cook the finely chopped onion and garlic.
When the onion is slightly brown, add the tomato paste, mix well, then season with the ingredients
(salt, pepper, oregano, sugar, chilli) and simmer for about 4 minutes.
Step 3: Add the 1/2 cup of water in which the pasta was boiled and mix well.
Step 4: Add the milk and cream and mix.
Step 5: Add the pasta.
Step 6: Add the cheese and butter and mix everything well.
Step 7: Turn off the heat and sprinkle with chopped green parsley.
Step 8: Enjoy this delicious recipe of creamy pasta with 3 cheese.