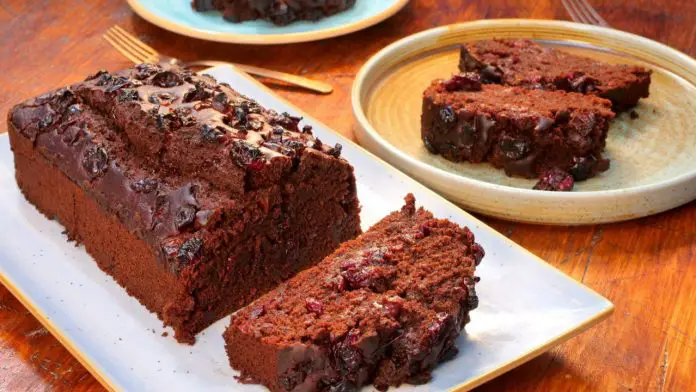 Ingredients:
10 oz flour
1/2 cups brown sugar
1/4 cups cocoa
1 tsp baking powder
10 oz warm water
5 oz coconut oil
2 cups cherry jam
cranberries for decoration (optional)
1. Put the flour, brown sugar, cocoa, baking powder in a large bowl and mix them with the whisk.
2. Add water and oil. Mix until the composition becomes homogeneous and is no longer lumpy.
3. Add the cherry jam and incorporate it well into the composition.
4. Pour the mixture into a pan lined with baking paper (or grease with a little oil and sprinkle with flour) and place the cranberries on top.
5. Insert the tray into the oven preheated to 360 F degrees for 35-45 minutes or until it passes the toothpick test.
6. Leave it to cool, then remove if from the tray and slice it.
7. Enjoy this chocolate cherry cake recipe.