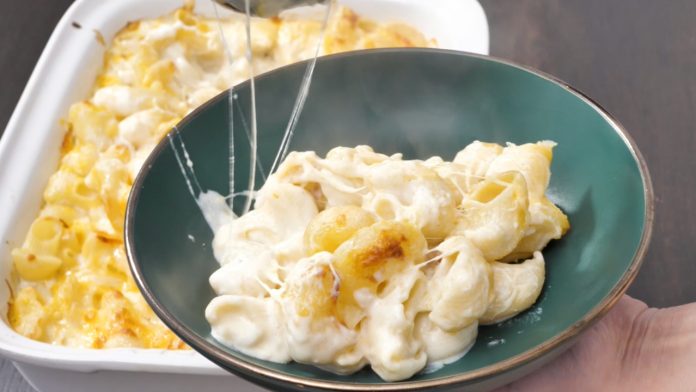 Ingredients:
2 cups pasta (macaroni)
1/2 cup cheddar cheese
1/2 cup gruyere cheese
1/2 cup mozzarella cheese
1 tbsp flour
1/3 cup butter
4 cups milk
1 tsp salt
1/2 tsp black pepper powder
1/2 tsp nutmeg
Step 1: Preheat the oven to 360 F (180 degrees C)
Step 2: In a bowl, mix all kinds of cheese.
Step 3: Boil the pasta according to the instructions on the package.
Step 4: While the pasta is cooking, make the sauce. Put the butter in a large pot. After it has completely melted, add the flour and mix until you get a homogeneous composition.
Step 5: Gradually pour the milk and mix after each portion added. Boil the sauce over low heat, stirring constantly, until it reaches a creamy consistency (approx. 10 minutes).
Step 6: Turn off the heat, add the spices and stir to incorporate into the sauce.
Step 7: Add to the sauce ¾ from the cheese mixture and mix well until it melts.
Step 8: Add the well drained pasta to the sauce and mix.
Step 9: Transfer the entire composition to a ceramic tray, or a suitable oven tray. Sprinkle with remaining cheese mixture and bake for 20-25 minutes.