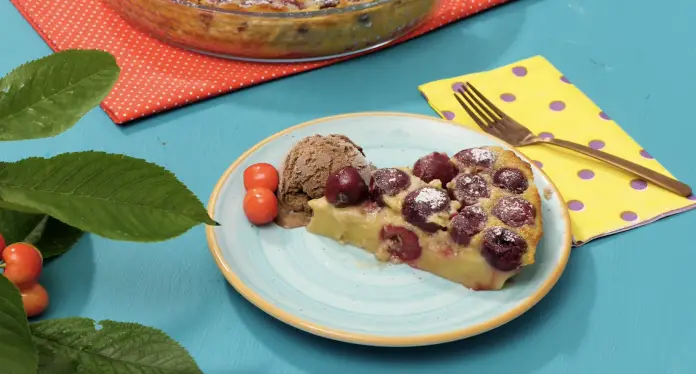 Ingredients:
2 cups cherries;
1 cup milk;
1/2 cup flour;
1/2 cup sugar;
1/4 cup melted butter;
4 eggs;
1 tbsp vanilla sugar;
Salt
Bake it at 320 F for 50-55 min
Step 1: Wash the cherries and remove the seeds.
Step 2: In a bowl mix the flour with sugar, vanilla sugar and salt.
Step 3: Add the liquid ingredients: milk (at room temperature), eggs and melted butter.
Step 4: Homogenize the composition with a whisk so that it does not remain lumpy.
Step 5: Grease a tart pan with butter and line the bottom with baking paper.
Step 6: Place the cherries on the entire surface of the tray.
Step 7: Over the cherries pour the composition prepared in step 4.
Step 8: Put the tray in the preheated oven at 320 F degrees for about 50-55 minutes.
Step 9: Remove the cake, let it cool a bit and sprinkle with powdered sugar.
Step 10: Enjoy this cherry clafoutis recipe , a delicious cake that can be served with a cup of ice cream!